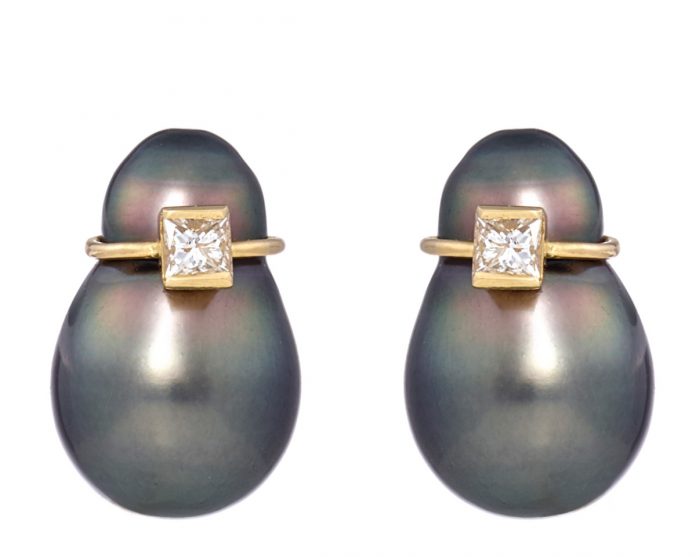 Pearl jewellery has been enjoying a revival over the last few years as designers have increasingly been taking the classic gemstone and translating it into modern designs.
Following the Netflix phenomenon The Crown, many brands and retailers noted a boost in pearl sales. With the show set for a Season 2 comeback in October, we asked brands what trends they predict will be popular over the next 12 months.
Fancy Shapes
When it comes to pearl jewellery for AW17, consumers will be wanting to experiment with different shape pearls to add a new dimension to their collections. iKuria founder, Ikuko Kurahone, explains: "Baroque and fancy-shape pearls will be popular in the fashion-fine market because their organic shapes are fun. Also, baroque pearls used to be seen as imperfect but today they can certainly be a part of the love-your-body social trend." For consumer's looking to purchase higher-end pearl pieces, fancy shapes will resonate with their need for rarity, while conch pearls are currently a buzzword in the world of luxury.
Layering
Just with sterling silver jewellery, pearl purchasers want to layer their pieces together to create an individual look. For pearls in particular, layering necklaces will be a key trend, from some layering pearl stands, to others mixing classic and contemporary together. "The trend for customisation will continue; being able to add or stack or personalise," shares jewellery designer Claudia Bradby, with Yoko London chief executive officer, Michael Hakimian, adding: "Multi-layer pearl necklaces will be popular. We have many new multi-strand designs which can be worn alone, or layered on top of each other for more impact and drama."
Minimal Vibes
While the revolution of pearl jewellery has led to some striking statement designs, for AW17 many consumers will be on the hunt for modern yet minimal pearl pieces. This trend translates well into bridal, as the classic stone continues to drive sales in this sector, while it also works well for layering and stacking. Jersey Pearl director, Mike Taylor, says this trend has already been popular in store. He shares: "Our new Viva collection has been inspired by the trend for minimalist pieces that stack easily. It has a very simple, authentic design, with clean, sculptural lines set with a single Freshwater pearl. It's flying off our shelves!"
Large Pearls
Even with minimalist designs shining for AW17, consumers will still be wanting their jewels to stand out, particularly during the festive season. Enter large pearls in simple settings! "We are seeing a rise in larger pearl sales, so big and bold pieces with high lustre will no doubt continue to impress," reveals Raw Pearls director Miranda Raw, who also says she expects to see more and more classically minimal pieces using single pearls. Other brands and designers say this trend will be popular with millennials as a fun and easy way of adding pearls to their outfits.
Experimentation
Also for millennials experimentation is key. While they discover how to take a gemstone which would have been worn by a generation of women before them, they will be playing with designs to find out what works best for them and suites their particular style. "Millennials are exploring more and more their individual sense of style and are therefore looking for special designs or new ideas in jewellery as well as fashion," shares Melanie Georgacopoulos, founder of the namesake brand. Experimenting will also include learning about pearls and researching brands and designers which they can relate to.
News Source: professionaljeweller.com