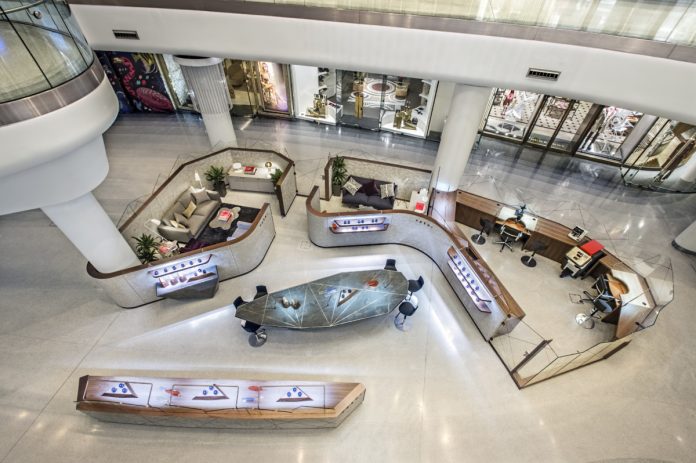 Diamond retailer Vashi has opened the doors to its third retail outlet in London's busiest shopping centre – Westfield London.
Bringing its signature interactive experience to the heart of the centre's Luxury Village, the expansive Vashi store reflects the brand's ethos of transparency and welcomes customers at every corner.
Set across 1,000 square feet, stainless-steel edged kimberlite surfaces (the rock that is the birthplace of diamonds) represents the brilliance of the diamonds on show.
Two private consultation rooms circle the central diamond bar where diamonds are openly on display to twinkle and play with the light. The heart of the store is the lab, where the resident jewellery alchemists work throughout the day crafting the jewellery.
As in all Vashi stores, customers are welcomed to roll up their sleeves to create their personal item of jewellery or just watch the master jewellers at work. Traditional tools sit alongside cutting-edge state-of-the-art lasers and engraving tools all in the hands of Vashi master jewellers.
Vashi jewellery centres around the customer, as it is they who create each piece, be that from the design through to assembly or through the initial diamond(s) selection. The process is collaborative between customer and Vashi craftsmen and the result is always a truly unique ring.
Vashi founder and chief executive officer, Vashi Dominguez, explains: "Buying Vashi jewellery is an intensely personal experience; it is a reflection of your personality and taste, so a location in The Village is a natural fit for Vashi, where we are excited to introduce our brand to Westfield customers."
VASHI employs resident craftsmen with a combined 50 years of experience at the highest level of jewellery making.
Over the launch of the Westfield store, Vashi jewellers will host a programme of masterclasses to explain, uncover and curate the history and finesse of diamonds and diamond jewellery.
News Source: professionaljeweller.com