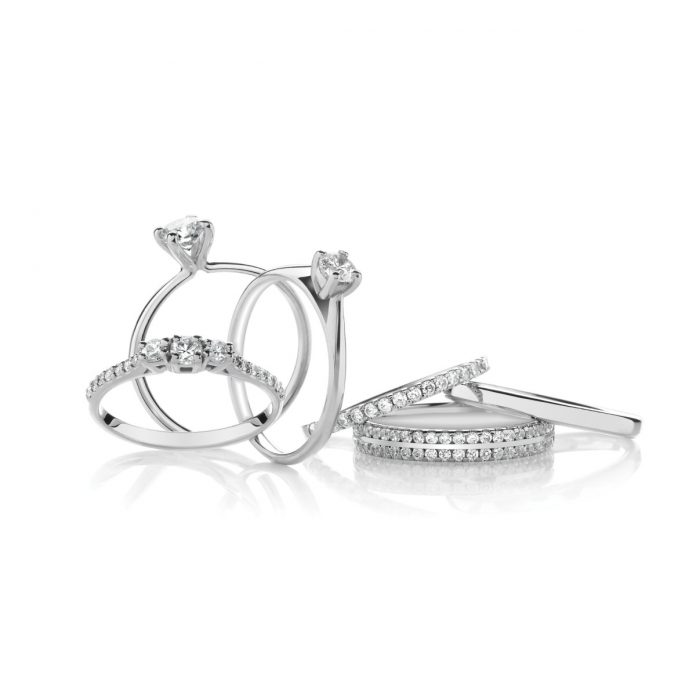 British bridal jewellery manufacturer Wedds & Co has launched a new 'Mix and Match' bridal collection aimed at the millennial market.
The new range features a number of solitaires, halos and cluster rings, as well as a popular range of trilogies, which are designed to wed-fit the company's 'Simply Diamond' wedding bands.
Inspiration for the new collection comes from the current trend for stacking and layering jewellery, which Meghan Markle has become known for.
With new pieces, consumers can stack rings and wear them across different finders.
Furthermore, with a retail entry point of under the £750 bracket, and sets starting from £325 cost (ex VAT), competitive prices make the collection attractive and affordable for this age group.
Wedds & Co director, Rachael McTiernan, shares: "We are absolutely thrilled with the new Mix and Match collection; the quality and cost points are outstanding and the stackable element is really on trend with the millennial consumer. So far, we've had an excellent sell through rate where the range has been listed, so we feel confident that they will be well received in stores."
All the diamonds used in the range are of H/Si quality, with pieces available in all alloys.
Rings can be purchased individually or as a set, and pieces can be personalised to the individual, with inscriptions such the wedding date or a finger print available too.
Director of business development and marketing, Lucy Reece-Raybould, says of the range: "Here at CMJ we are very excited about this millennial bridal range with its astonishing value and of course the fact that its British made. Every retail member needs this offer in such challenging economic times; with such high-quality core products and exceptional value that's selling through and more importantly being re-ordered."
The collection is 100% British made and backed by dedicated point of sale, brochures and a catalogue featuring new imagery.
On top of this, extended payment terms for stocking orders are available.
News Source : gjepc.org