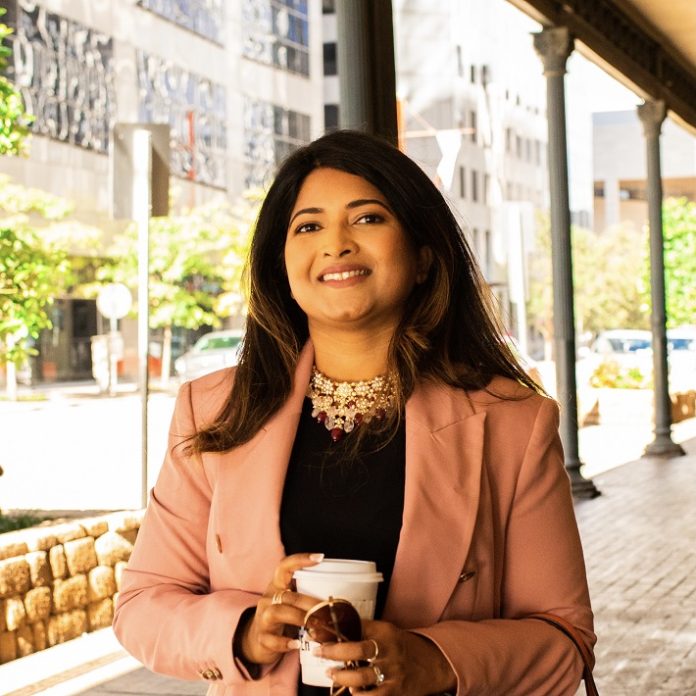 Sunaina Ramisetty, the owner of Tarnika, was born into a family of jewelry artists. In the 1970s, her grandfather, a skilled artisan with a vision matched by his tenacity, went to Hyderabad, India's City of Pearls, and began to make a mark of distinction above the throngs of designers in the city.
Today, she puts a modern twist on a legacy business. With her love for celebrating the beauty of every woman and a brilliance that outshines her most gorgeous creations, Sunaina is passionate about making heritage, heirloom-quality jewelry available to women everywhere. Her custom and ready-to-wear pieces ship to the far corners of the world, are worn by celebrities, and sold in stores across India. In 2022, she plans to open six additional stores and further expand her brand online.
In addition to creativity and a rare and perfect aesthetic sensibility, Sunaina's family passed on to her a set of life lessons that guide her success. Growing up, hard work and education were highly valued in their home as cornerstones for growth. As such, Sunaina's family encouraged and supported her academic pursuits. Sunaina earned her Master of Science in Engineering in the United States. She was the first individual in her family to earn a degree. While in school, Sunaina decided to expand the family business in America with business-to-business sales and jewelry trade shows. The hours were long, but, with time, the efforts paid off. And so, she returned again to the entrepreneurial beacon that is so much a part of her.
Growing up, Sunaina took delight in the happiness that her family's products brought wearers. She saw countless brides adorn their beautiful faces with creations that made them sparkle like queens on the most important day of their lives. From an early age, she saw power in beauty and freedom in the celebration of traditions.
Sunaina possesses a remarkable balance of grace and determination. Her warmth, wit, and genuine concern for the quality of each customer's experience combine to set her brand apart. Together with her family's support, her goal is to continue to grow the company. Her talented team of craftsmen embrace new technologies that drive production efficiencies, to ensure that every woman has access to lovingly crafted heirlooms.
Quality is paramount at Tarnika. Sunaina's most resonant mantra is "Deliver the best purchase the customer has ever made." As a company, Tarnika aims to overdeliver in everything that they do. As an individual, Sunaina hones these skills and uses them to create memorable experiences when interacting with customers, jewelry designers, artisans, vendors, and manufacturers. Every interaction she has on behalf of her business is an opportunity to learn and to grow as a person and in her business.
Sunaina founded Tarnika in May 2014, and the online store, which initially focused on business-to-business, launched in 2017. Immediately, word spread, and the demand for this jewelry that is trendy and affordable, peaked. For women living outside India, the choice for buying Indian jewelry online was (and still is) limited. Tarnika broke this mold. Today, the lessons learned at Tarnika have provided a solid foundation to enable further expansions, including Paksha. Launched in 2021, Paksha combines timeless techniques with high-quality materials.
As a whole, Sunaina runs her business true to her vision (and heart) with the focus on people first. She is extremely hands-on and remains a key contributor in the business's daily operations, empowering and growing a team of talented individuals who stay to be part of something larger than they are. Her highest purpose is to make a difference by supporting as many women as possible with meaningful career opportunities. She aims to make an impact at the grassroots level by delivering opportunities to historically underprivileged communities. So far, with her family's support, the company has provided long-term gainful employment for thousands in Kolkata.
Sunaina is actively working to establish the Tarnika Foundation, where she can contribute to positive change. With her Foundation, she aspires to become a mentor, supporting those who have no support and offering fellowships and unconventional opportunities. Through her tenacity and compassionate nature, Sunaina will no doubt achieve this and more as her company furthers its efforts to be a leader of industry and philanthropy.