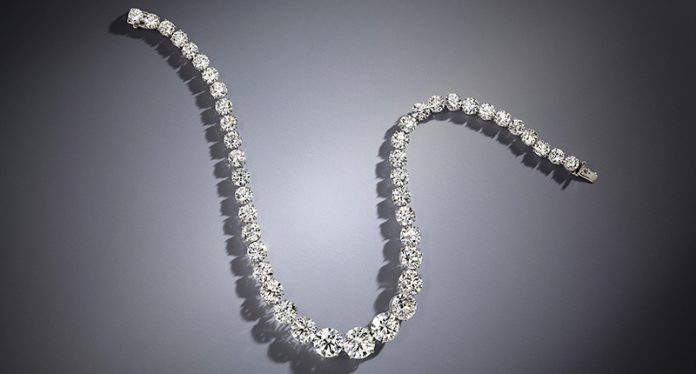 New York–She had a number of notable quotes about diamonds and her love for the sparkly stones, so it was only fitting that when a piece owned by Zsa Zsa Gabor went up for auction, it was an "over-the-top gorgeous" diamond necklace.
On Monday, Bonhams New York auctioned off a diamond rivière necklace once owned by the actress, featuring 45 graduated round brilliants totaling 66 carats and created by Harry Winston in 1964.
The necklace garnered almost $1.3 million (including the buyer's premium) when it hit the block Monday.
Though the final sale price put it squarely within its pre-sale estimate of between $1.2 and $1.5 million, it may have surprised some, given the fact that celebrities' jewels tend to easily top estimates at auction.
According to Bonhams, the diamond rivière necklace was a "much-loved piece" in Gabor's collection, and she was photographed wearing it frequently when she was out and about, particularly in the 1960s.
The five central diamonds weigh 8.07, 6.34, 6.33, 5.35 and 4.88 carats, and their quality ranges from F to I color, VVS2 clarity.
At some point, the necklace was sold; Bonhams said it came to them via a private client rather than Gabor's estate.
One of three sisters born in Hungary to a Jewish family who immigrated to the United States, Gabor's film credits include the 1952 version of "Moulin Rouge."
In addition to acting, she was perhaps just as well known for her glamorous lifestyle and her many marriages–Gabor wed a total of nine times, including one very brief marriage that was quickly annulled (and might not have been legal in the first place).
She also was known for her love of jewelry, particularly diamonds, providing some of the most notable quotations, including "I never hated a man enough to give him his diamonds back," and "Diamonds are a girl's best friend, and dogs are a man's best friend. Now you know which sex has more sense."
Gabor died last year at the age of 99.
The expected top lot of Bonhams New York sale Monday–an oval-shaped 13.61-carat D color, internally flawless diamond estimated to go for between $1.4 and $1.8 million–did not sell.
The actual No. 1 lot, topping Gabor's necklace, was a drop pendant featuring a natural pearl measuring 14.1 mm accented with a rose-cut diamond surmount set in platinum. It garnered almost $1.5 million.
News Source : nationaljeweler.com