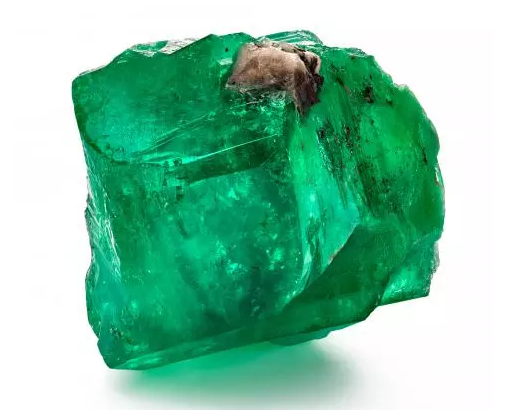 Also for sale at Guernsey's: 17 emeralds from a famed Spanish shipwreck
The la Gloria, an 887 ct. "museum-quality" stone believed to be the largest rough emerald in the United States, is among the rare emeralds going up for sale by Guernsey's at an Apr. 25 auction run in New York City.
That golf ball–size stone, along with 17 emeralds discovered from the wreck of Spanish galleon Nuestra Señora de Atocha, all come from the collection of noted emerald authority Marcial de Gomar.
"It's very rare for an auction to spotlight emeralds," says Arlan Ettinger, founder and president of Guernsey's. "We feel this will be an extraordinary event."
The la Gloria hails from the Muzo mine in Colombia, known for producing large emeralds. It's sat in de Gomar's collection for many years, and this is its first time on the market. And while the collector feels it could produce a 400 ct. polished stone, he has always believed it shouldn't be cut.
"[There's a] little piece of calcite on the end [that] is a tip to its provenance," de Gomar says. "It tells you what country it comes from, what mine it comes from. All that is very significant. I wouldn't want it to be cut. I'd like for it to be kept as is. It should be in a state museum somewhere."
The stone is named for a now-deceased attorney that represented de Gomar in litigation over the Atocha.
The 17 gemstones from the Atocha include the Corona de Muzo (below), which features a 24.34 ct. emerald cut; the Reina del Mar, a 4.39 ct. round; and a 26.72 ct. piece of rough. All those stones are believed to have come from Muzo as well.
The Atocha sank in 1622, off the coast of Florida while bound for Spain. In the 1980s, treasure hunter Mel Fisher discovered portions of the wreckage, setting off an epic legal battle with the state of Florida.
Ettinger says most of the items will be sold without reserve (though not la Gloria). "That makes it more exciting," he says.
The auction house is still working on an estimate for the headline stone but expects it to fetch "many millions."
News Source : jckonline.com