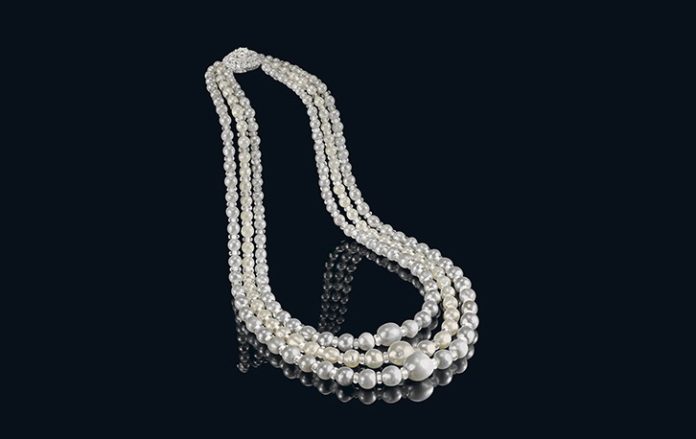 An exquisite three-row natural pearl necklace was the highlight of AstaGuru's Heirloom Jewellery, Silver, and Timepieces auction on 30-31 May 2022 as it sold for a whopping Rs. 6.24 crore. It accounted for almost 35% of the total Rs.19.92 crore garnered at the two-day auction.
The necklace comprises three rows of graduated natural, salt-water pearls interspaced with faceted crystal discs along with a gold clasp set with old cut diamonds. It is accompanied by a SSEF certificate. (Natural Pearl weight: 2485.73 chau /181 pcs).
"The auction results validate that collectors are always looking for such opportunities to acquire coveted vintage jewellery which are very rare to come by. With several necklaces and other beautiful pieces, the auction offering was a wholesome selection of different items that go into the making of any important heirloom jewellery collection. The success of the auction also reinforces that whether Indian or Western designs, vintage jewellery is evergreen and timeless. It is a prized possession that remains highly sought after," stated Jay Sagar, Jewellery Expert, AstaGuru Auction House.
On offer were traditional Indian jewellery, jewellery by European brands as well as gem-laden pieces featuring natural pearls, Burmese rubies, Zambian emeralds and high-quality diamonds, silverware and timepieces, including those by Chopard and Piaget.
The auction also showcased another elegant five-row natural pearl necklace which fetched Rs. 1.48 crore. The necklace comprises 453 pieces of graduated natural pearls with an even tone accented with Art Deco gold terminals set with diamonds. (Natural Pearl weight: 619.50 chau /448 pcs).
Another sale of note was a beautiful four-row necklace with intense red Burmese ruby beads from the historic mines of Mogok which sold for Rs. 1.79 crore.
An important Cartier diamond necklace featuring three rows of bezel-set diamonds in white gold and a pendant, circa 1990, was also part of the auction. It sold for Rs.90 lakh.