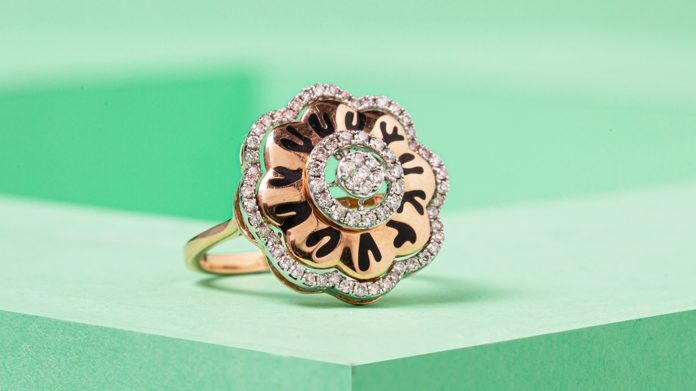 We are all lovers of nature. Keeping this in mind, we have crafted our latest jewellery collection. Inspired by the magical world of flowers, explore the craftsmanship and artistry of jewellery with our floral collection, crafted with unique gemstones. Each and every jewellery piece is one-of-a-kind.
Beautiful earrings, pendants, bracelets, and more, our collection will continue to shine this monsoon season. The pieces curated in this collection are a true representation of romance making them perfect for this monsoon season or any festive celebration during this season.
The collection has pieces in both gold & diamonds & also has intricately crafted neckpieces & earrings. Each and every piece is crafted in a way that will make a woman look unique in her own way. These floral motif pieces are a perfect accessory for various occasions this season & will surely add elegance to your look.
About Entice, KGK Since 1905
'Entice, KGK Since 1905′ Jewellery presents a prêt-a-porter and haute couture line of timeless jewellery. From the creation of statement jewellery to customized pieces to infuse a personal touch, Entice caters to diverse sensibilities of the ever-evolving customers. Following the ground-breaking success in Hong Kong, KGK brought India to the forefront of the global market and launched Entice's first-ever boutique in Jaipur in 2009. Presently, Entice, KGK Since 1905 has 4 state-of-the-art boutiques in Hong Kong, Jaipur, Mumbai and Dubai.
Entice, KGK Since 1905 is well known for its profound expertise in crafting jewellery with rare diamonds (which are procured from mines) and painstaking craftsmanship that translates to an enchanting jewellery line. The collection strikes the perfect balance between statement pieces and lightweight jewellery for everyday look by coalescing delicate designs with detailed workmanship. The boutiques exude a feeling of opulence which appeals to all senses in retail spaces and entices both traditional and contemporary sensibilities. A luxurious experience awaits every jewellery aficionado at Entice boutique where the jewellery range embodies the true essence of royalty. Be it any occasion like walking the runway or indulging in wedding festivities, Entice, KGK 1905 makes up for a luxurious accompaniment for an ethereal look.