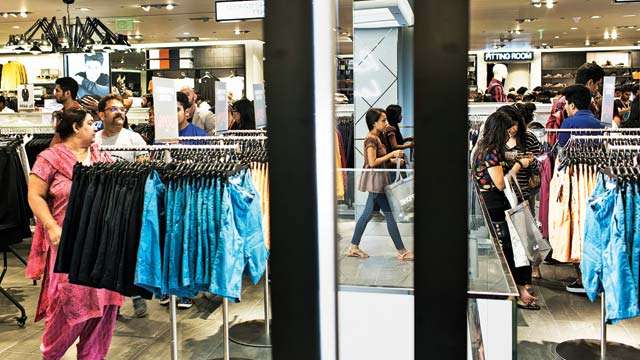 Hennes & Mauritz (H&M) will be launching its e-commerce website in India next year, the company said in its nine-month report for the period between December 2016 and August 2017 released on Thursday.
The global fashion garments retailer, which registered 142% sales growth in India from 17 operational stores during the nine months, currently has 20 stores across 10 cities. The retailer will soon be opening its 21st store in Amritsar on Saturday and the overall plan is to have over 25 stores across the country by the end of this year.
Karl-Johan Persson, chief executive officer, Hennes & Mauritz AB, said, "This year, we are also opening eight new H&M online markets so that online shopping will be available in 43 markets by the end of the year. Next year, we plan to continue our online expansion into further countries, including India. The plan is that in the future we will offer online shopping in all store markets as well as in other markets."
Elaborating on the company's efforts towards integration and development of online stores and physical stores, Persson said, the company is continuously working on improving the online store and is adding more and faster delivery options, while at the same time further broadening the range of products online. "The physical store is increasingly being integrated with the online store for a more convenient shopping experience. We are also testing out new store concepts for H&M to offer our customers an even more inspiring store," he said.
As part of its online focus, H&M has opened country-specific websites in six new markets this year and will be adding two new markets – Philippines and Cyprus in 2017. The company's continued investments with a digital focus is estimated to result in the group's online sales growing by at least 25% annually going forward.
The fashion retail sector, company said, is growing and is in a period of extensive and rapid change as a result of ongoing digitalisation. "The competitive landscape is being redrawn, new players are coming in and customers' behaviour and expectations are changing, with an ever greater share of sales taking place online. This shift is clearly reflected in our online sales, which continue to develop very well," he said.
In the nine-month period, the group opened 269 stores and closed 67 stores, i.e., a net increase of 202 stores. The group had a total of 4,553 stores as of 31 August 2017, of which 209 are operated by franchise partners.
For full-year 2017, H&M is planning to open approximately 475 new physical stores globally, with the focus primarily on growth markets. Most of the new stores to be opened this year will be H&M stores, while approximately 70 will consist of the newer brands COS, & Other Stories, Monki, Weekday and ARKET.
The H&M group, company said, has several new brands that are growing rapidly and have great future potential. "Our most recent brand ARKET was successfully launched in 18 European online markets and with stores in London, Copenhagen and Brussels. Creating and launching new brands is an important part of our growth strategy, and next year we plan to launch another new brand," company said in the report.
News Source: dnaindia