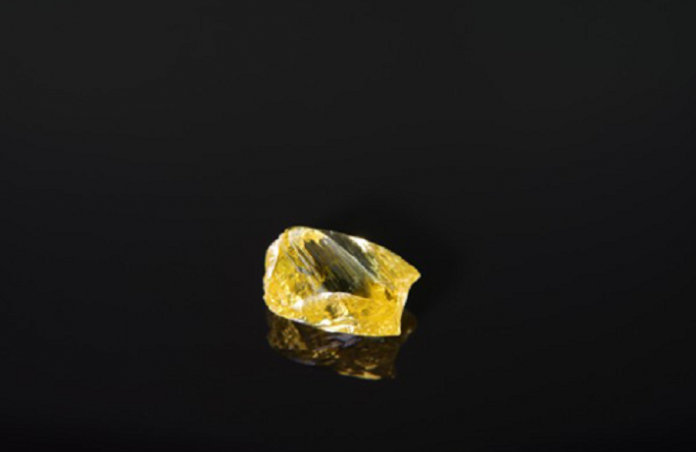 ALROSA recently recovered the first large coloured rough diamond at its new Verkhne-Munskoye deposit in Yakutia.
The find, a bright yellow gem-quality diamond weighing 17.44 carats was "unearthed" in mid-February from the Zapolyarnaya kimberlite pipe, a part of the Verkhne-Munskoye deposit, which commenced operations in October 2018. "The transparent crystal with a habit transitional between octahedron and dodecahedron has dimensions of 18x20x9 mm," ALROSA reported.
"This is the first rough diamond with bright colour found at the Verkhne-Munskoye since it was launched in 2018," said Evgeny Agureev, Deputy CEO of ALROSA. "The United Selling Organization of ALROSA will assess and evaluate this stone in detail. We hope this deposit will give us more large and interesting discoveries in future."
The Company noted that most of its natural colour rough diamonds are mined in the Arkhangelsk region and in the north of Yakutia; and that gem-quality coloured diamonds amount to less than 0.1% of the overall output of ALROSA.
The coloured diamonds mined by ALROSA are sent to Diamonds of ALROSA, the Company's cutting and polishing division. "This is where such unique pieces as the Fancy Vivid Yellow Firebird diamond (20.69 ct) and the Spirit of the Rose 14.8 ct Fancy Vivid Purple-Pink diamond were produced," ALROSA said.
As is well known, sources for the recovery of gem quality coloured rough diamonds are rare. The Company pointed out that as "known deposits mature" and get depleted, such specimens become more and more rare. "That is why vivid fancy diamonds of important tones may be valued ten times higher than colourless ones," said ALROSA. "According to GIA, only one in 10,000 diamonds has a fancy colour."
News Source : gjepc