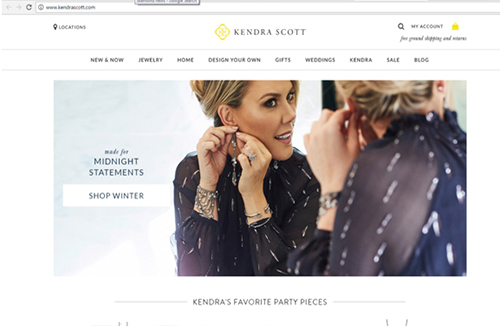 Kendra Scott Design, Inc., a well-known and leading fashion accessories brand announced recently that it has entered into a partnership agreement with Berkshire Partners, a Boston-based investment firm. Media reports said that Berkshire Partners has bought "a significant minority stake" in the company which was valued at over US$ 1 billion for the purposes of the transaction.
Kendra Scott Design Inc. was founded in 2002 by Designer and current CEO Kendra Scott with US$ 500, and a spare bedroom in her home as her workplace.
"Kendra Scott will continue as majority shareholder and CEO," the jeweller said while making the announcement. "The Company's senior leaders will remain in their current positions, focused on growing the brand's omni-channel presence. Norwest Venture Partners will continue as a minority investor."
Under Scott's leadership, the Company has grown into a leading jewellery, home and beauty brand with more than 50 stores throughout the United States and significant wholesale and e-commerce operations, the Company said.
Kendra Scott is also sold at premiere retailers including Neiman Marcus, Nordstrom, Bloomingdale's, Von Maur and over 600 specialty boutiques worldwide.
"Kendra and her team have built an authentic brand that is widely loved," said Marni Payne, a Managing Director at Berkshire Partners. "The Company's deep focus on its customers, commitment to product innovation and culture of giving back has led to impressive growth. We look forward to partnering with Kendra and her team to support their continued success."
"We are delighted to have Berkshire invest with us at a very exciting time for our company," said Founder and CEO Kendra Scott. "Berkshire has significant experience in helping leading brands maximise their potential and a deep appreciation for the Kendra Scott culture and organisation."
The transaction is subject to customary closing conditions and is expected to close during the first quarter of 2017, the Company said.
News Source : gjepc.org