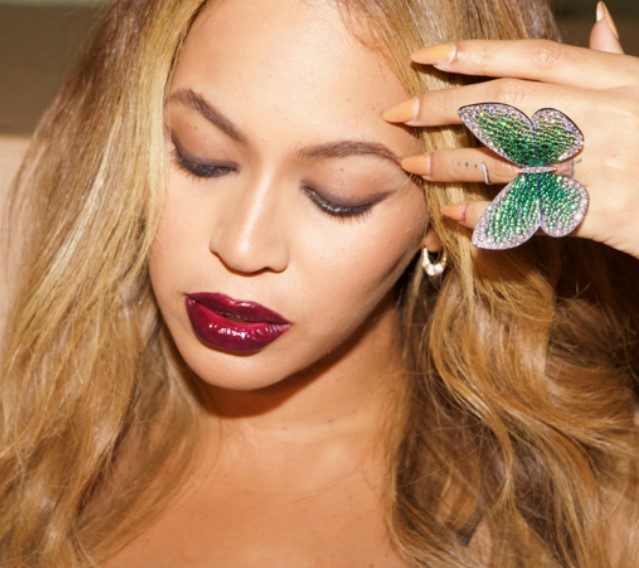 American singer-songwriter Beyoncé has donated a ring by British jeweller Glenn Spiro to the V&A Museum.
The piece is a 'G' Papillon ring, which her husband Jay-Z once gave her as a gift.
The Papillon ring will be on display in the William and Judith Bollinger Jewellery Gallery from today (May 11th 2018), alongside jewels associated with some of history's most notable women including Elizabeth I, Catherine the Great and the Empress Josephine.
Jewellery curator, Richard Edgecrumbe, shares: "Beyoncé is a figure whose personal style the V&A is proud to represent, and a gift from whose personal collection we are honoured to receive.
"The papillon ring she has gifted is an exquisite example of contemporary jewellery design by one of Britain's master jewellers."
Ingeniously crafted and technically astute, the Papillon ring was designed by Glenn Spiro in 2014, and crafted from featherweight blue titanium, tsavorites and diamonds.
The ring sits on the finger and flutters as the wearer opens and closes her hand, or simply bends her ring finger, via a clever mechanism that delicately extends over the knuckle. To the observer, the butterfly is simply attached to the finger with a diamond studded tendrils.
"I am delighted that one of our bejeweled Papillons has found its way to the V&A, and all thanks to the generosity of our long time friend and client Beyoncé Knowles Carter and her family.," says Spiro. "It is an honor to have a piece in such a magnificent gallery, steeped in history, and I am looking forward to seeing it in its new home."
News Source : professionaljeweller.com