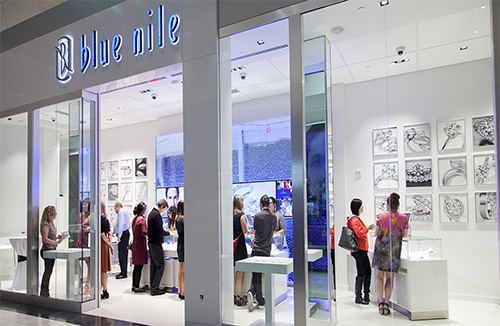 On November 22, 2016, Blue Nile opened its fifth Webroom – this one is situated at Bellevue Square in Bellevue, Washington, and is just a few miles from the Company's Seattle headquarters.
Four other Webrooms were set up earlier in: Washington Square mall in Portland, Oregon; Roosevelt Field mall in Long Island, New York; The Westchester mall, in White Plains, New York; and Tysons Corner Center mall in Fairfax County, Virginia.
The Webrooms of the leading online jeweller, "offer consumers the ability to see, touch, and feel Blue Nile's jewelry in a physical environment, but still enjoy the advantages of online selection, convenience, and price", the Company said.
"Blue Nile was born in innovation – disrupting the diamond industry – and we are excited to shake up the jewellery retail scene at Bellevue Square in the best way possible," said Blue Nile Chairman, CEO and President Harvey Kanter. "Our Webrooms are fresh, modern, and bright, and put shoppers in the driver's seat – not the other way around. It is truly a unique, customer-first experience that contrasts meaningfully with any traditional jewellery retailer."
More than 400 styles of engagement rings and fine jewellery are stocked at Blue Nile's Webrooms for the viewing pleasure of consumers, before they proceed to make their purchases online. Shoppers can also browse through an online catalogue of 150,000 independently-graded diamonds on in-store tablets.
"Blue Nile prices are up to 40 per cent less than traditional jewellers," the Company declared. "Non-commissioned Diamond and Jewellery Consultants are on hand to answer questions in a pressure-free environment and can also help with purchases, which can be made via in-store tablets, or at a later date from the customer's smartphone, tablet, or PC at www.bluenile.com."
News Source : gjepc.org