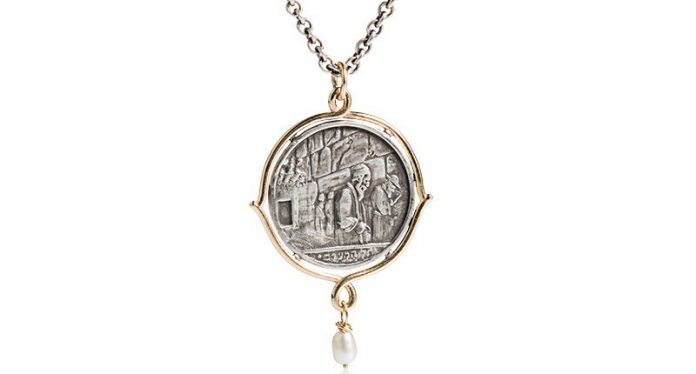 Pittsburgh, Pennsylvania company Brother Wolf makes religious jewelry and is located about a mile from the Tree of Life Synagogue, the synagogue where 11 people were killed last week. Pictured is a Brother Wolf relic depicting worshippers at the Western Wall in Jerusalem, a holy site for Jewish people.
Pittsburgh—Religious jewelry manufacturer Brother Wolf is located about a mile from the synagogue in Pittsburgh, Pennsylvania, that was the scene of a mass shooting last weekend.
On Saturday, a gunman entered the Tree of Life Synagogue in the city's Squirrel Hill neighborhood and opened fire, killing 11 people and wounding six, including four police officers who responded to the scene.
Now, in response to the tragedy that is being prosecuted as a hate crime, Brother Wolf is doing what it can to support its community.
For the month of November, the company, which has been owned by 20-something twins Jonathan and Lauren Tesauro since 2014, will donate 10 percent of proceeds from all special orders to the Tree of Life Congregation and the first responders.
They ask that any retailers who sell Brother Wolf items from their stock inform the Brother Wolf team, so they can donate 10 percent of those sales as well.
All donations will officially be given on behalf of Brother Wolf and its team of retailers.
"This town is stronger than hate, this town is tough as nails, we have hearts and spirits made of steel and we are Pittsburgh strong," Brother Wolf co-owner Jonathan Tesauro said.
Those who wish to give to the synagogue directly can do so via its website. There is also a verified GoFundMe page that has been established for the families of the victims and to pay for repairs to the synagogue itself.
News Source: nationaljeweler.com