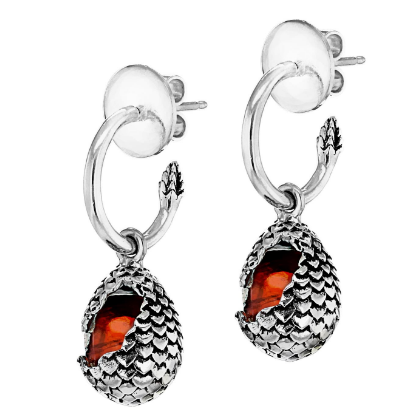 MEY Designs—a collaboration between Game of Thrones costume designer Michele Clapton and London-based jewelry brand Yunus & Eliza—has a couple of new eggs in its design basket. Literally.
The brand's new Dragonstone collection, fine jewelry inspired by the HBO series, launched this week and is comprised of a single design: a sterling silver dragon egg cracked open just enough to glimpse a dazzling colored stone. The jagged egg is anchored from sterling silver bracelets, rings, and necklaces (as pendants).
Dragonstone pendant by MEY, $290
Dragonstone ring by MEY, $360
Prices range from $290 for a pendant with a chain to $495 for the Dragonstone bangle. The "gems" shoppers can choose from include blue labradorite and two tones of glass: fire orange and electric green.
The collection "was inspired by Daenerys' journey as The Mother of Dragons," according to a prepared release, referring to actress Emilia Clark's role in the series. "It features beautifully vibrant stones at its center, symbolizing rebirth through fire."
The seventh season of Game of Thrones debuts July 16.
(Top photo: Dragonstone earrings by MEY, $430; all images courtesy of MEY Designs)
News Source :  jckonline.com