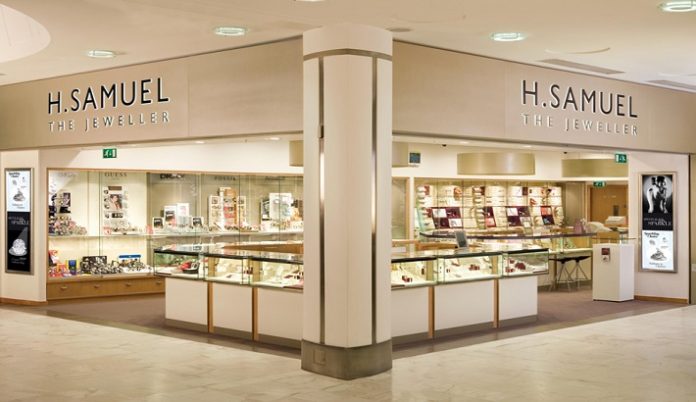 2018 was supposed to be the year when Signet Jewelers started to see results from its root and branch Path to Brilliance turnaround plan, but the latest financial results for Q4 reveal this has not been achieved yet.
The Group suffered during the crucial Christmas trading quarter, that covers the three months ending February 2, with heavy discounting driving same store sales down by 5.8% for H. Samuel and 8.9% for the more upmarket Ernest Jones.
Unusually, Ernest Jones fared worse than its higher volume stablemate H. Samuel. In recent years the two retail brands have been roughly the same size in terms of turnover, but for the most recent quarter, H. Samuel sales were $102.8m (£78.4m) while Ernest Jones came in at $92.2 million (£69.9m).
The same store sales decline was driven by lower sales in bridal jewellery, fashion jewellery and fashion watches, partially offset by higher sales in prestige watches, Signet says.
The UK was singled out by Virginia C. Drosos, Signet's chief executive officer, in her analysis of the final quarter of its 2019 financial year. Referring mainly to initiatives in the United States, she reports: "In Fiscal 2019, we began our Path to Brilliance transformation journey, building foundational capabilities to drive future growth. We made progress on our Path to Brilliance initiatives, achieving double-digit eCommerce growth, delivering $85 million of net cost savings, and continuing to optimize our store footprint. However, we did not finish the year as strongly as expected due to a highly competitive promotional environment, continued consumer weakness in the UK, and lower than expected customer demand for legacy merchandise collections that impacted our holiday fourth quarter results."
Part of the Path to Brilliance plan is to close unprofitable stores and increase eCommerce sales. In the UK, H. Samuel has closed 13 stores since February 2018 and now has 288 doors. Ernest Jones has closed 17 stores and has 189 remaining. E-commerce sales declined 6.9% in the UK during the quarter.
World-wide, the group has closed 262 stores in the past year and expects to dispose of another 150 or more in the current financial year.
Signet's total global sales were $2.15 billion (£1.6bn), down 6.0% in the 13 weeks ended February 2, 2019, on a reported basis and down 5.4% on a constant currency basis.
In other news, Seb Hobbs, who was the UK's boss ahead of taking the newly created role of president and chief customer officer in 2017, has left the company but will continue to be paid for a year and help Drosos for three months, according to a filing with the SEC.
The group's chief financial officer also resigned in March.
NewsSource: ProfessionalJeweller