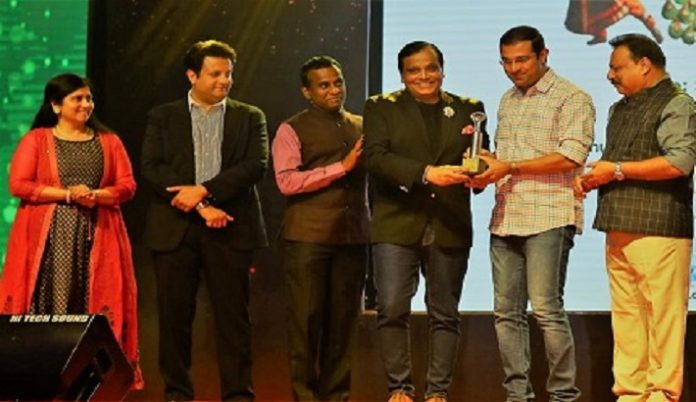 AMY bags the "Best Manufacturer Award" at KGJS 2018
The 9th edition of the Kerala Gem and Jewellery Show was held from 1st Dec to 3rd Dec 2018 at Cochin. The show has grown in strength over the years and has emerged a strong platform for jewellery trade. KGJS Expo organized an exclusive Awards Night on the 1st of December 2018 to recognize and celebrate the Jewellers creativity, hard work, innovation and contribution for the year 2018 towards the development & growth of the Gem & Jewellery Industry.
Rajendra Jain MD India, Swarovski Gemstones™ was honoured with "In Recognition for the contribution made to Gem & Jewellery Industry" by Rogy Augustine, MLA of Angamaly, Kerala, K. Srinivasan, PV Jose, Pratap Kamath, Ms Kranti Nagvekar.
They also presented the "Best Jewellery Manufacturer Award" to Sachu Rassak CEO, Amy Exports & Imports Pvt Ltd- Kerala, branding partner of Swarovski Gemstones™ at the KGJS 2018 for a master piece created depicting the culture and heritage of Kerala in a necklace. The necklace was like a live Kathakali dance performance. The magic was created using Swarovski Zirconia's TCF coloured stones studded in gold.
Rajendra Jain said "It's a proud moment for us to see our brand partner AMY receive the best manufacturer award and Swarovski being honoured for its contribution towards the industry. Swarovski® Gemstones has always strived towards contributing to make high-quality jewellery and world-class designs.
Since the very beginning, Swarovski's innovative thinking, technical precision and outstanding quality have been essential for the continued success and international reputation of the brand. Today, we like to think of ourselves as creative visionaries with a passion for perfection. We cut and polish our stones meticulously, bringing out the full intensity of the natural light and creating brilliant, superlative results. We feel honoured to be recognized and appreciated for our efforts at the KGJS Award Night 2018."
NewsSource: indianjeweller.in