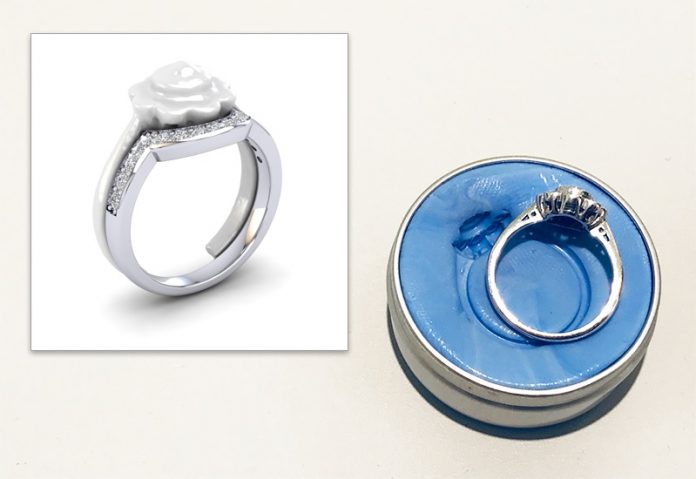 Digital jewellery platform Cadfolio has reported strong results from exhibiting at Jewellery & Watch, with 100+ visitors registering interest at the show.
During the five-day trade show Cadfolio, which launched a custom-shaped wedding ring service this year's event, gained tractions with retailers nationwide.
Cadfolio founder, Ryan Edkins, attributes the company's new shaped wedding ring kit as a main reason for attracting new registrations.
"The launch of our shaped wedding ring kits has been a great success and we see this has the main driver for new registrations being made that the show," shares Cadfolio founder, Ryan Edkins. "Visitors to our stand were intrigued by the interactive nature of the mould kits, and shared the common complaint that brides make of not wanting to leave their engagement ring in store."
"With over 400 shape kits sold at the show, we are now inviting more talented freelance designers into the platform. We are pleased to welcome the addition of Sarah Heulwen Lewis this week, a former Weston Beamor CAD designer. Sarah is by far one of the most talented CAD designers I have seen, and she will be a great addition to the freelance designers we offer access to within the platform."
Cadfolio continues to promote a digital first strategy to retailers by offering seamless interactions between themselves and consumers. By leveraging freelance CAD designers within a standardised framework, retailers are able to organise multiple custom jobs with multiple designers within a single interface.
"Once a retailer discovers how simple it is to create a custom made item within the platform, they realise how they have been wasting time with their traditional process," adds Edkins. "On average new customers reduce both their cost and lead time by over 25% compared to their existing custom design process."
Cadfolio is betting the future of the jewellery industry will be digitally connected, and will be launching new initiatives in the coming months.
News Source : professionaljeweller.com