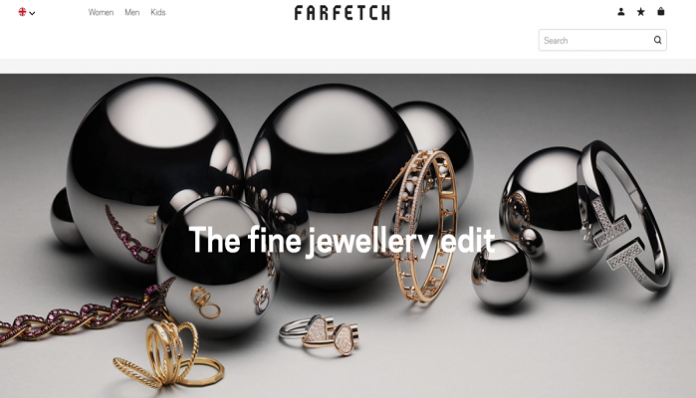 As fashion platform, Farfetch has joined Net-A-Porter and Mr. Porter to become the latest online luxury department store to launch a service for high-end jewelry and watches, Professional Jeweller has caught up with the company's chief commercial & sustainability officer, Giorgio Belloli, to hear all about the move…
Why did you decide now was the right time to launch a dedicated jewelry and watch platform?
This move is a natural extension to the unrivaled range we already offer lovers of fashion around the world. Over the last couple of years, we've worked to take our customer experience on the Farfetch platform to the next level, with visual and editorial updates to make it both inspiring and authentic for our customers. At the same time, we've added more local language sites and improved services. We're a marketplace, we're inventory light, and that's perfect for the hard luxury industry, which is why we've seen a lot of excitement from the brands. We also offer up new geographies that they can't reach with their own e-commerce, particularly mono-brand websites.
What have you noticed about the way consumers buy luxury jewelry online?
Of the few tenets of hard luxury e-commerce that exist, typically more purchases are made via desktop than mobile. We have seen a shift in this recently, however, with customers being open to shopping in different ways. Also, our take on fine jewelry is fresh, un-intimidating, non-traditional and encourages our customers to explore their individuality through these pieces – whether this is their first foray into the hard luxury category or they are connoisseurs. Lastly, customers have increased expectations when it comes to customer service and in some instances would like a more personalized service, which are
Private Client team can help facilitate.
What have you done to give consumers confidence in departing with a lot of money online?
On the one hand, we've ensured we have the right logistics and security in place to handle higher-priced transactions and deliveries into nearly 150 countries. On the other hand, we also know that confidence doesn't come from a simple returns policy or service agreement. We also build trust every time we help our customers discover new designers, every time we can answer questions about where and how a product is made and every time our private client team is able to source something rare, customized or bespoke.
How does your jewelry and watch platform stand out from similar platforms?
We empower individuality and personality and don't believe in telling our customers what to wear; we instead try to inspire and be inspired by our customers. It's no different with hard luxury — particularly considering that a watch or a piece of jewellery is often one of the most personal items someone can wear. We are extremely proud of our dedicated fine watch and fine jewellery hubs and our hard luxury proposition stand out because of the way that it's woven into the complete Farfetch experience. This includes the Farfetch-created content featured on both hubs, the inclusion of fine jewelry in all of our editorial shoots
since launch, and as part of our editorial features with Farfetch collaborators like the shopping guides penned by Beanie Major from InDetail. Also, since Farfetch.com is a marketplace, we aren't limited to a seasonal buy or wholesale range of product, instead our partners will be able to load any pieces from their product range onto our platform. This gives our global customers access to an unrivaled range and deep selection of product.
How will you be evolving and adapting the platform this year?
We will continue to add to the assortment available across both fine watches and fine jewelry with new brand and boutique partners from all over the world.
What has the response been to the platform so far?
There's been a great response so far with our customers who are thrilled to see that we're offering this range. Our launch partners are also pleased with the aesthetic of the hubs and access to a global audience in new and existing markets.
News Source:- professionaljeweller.com