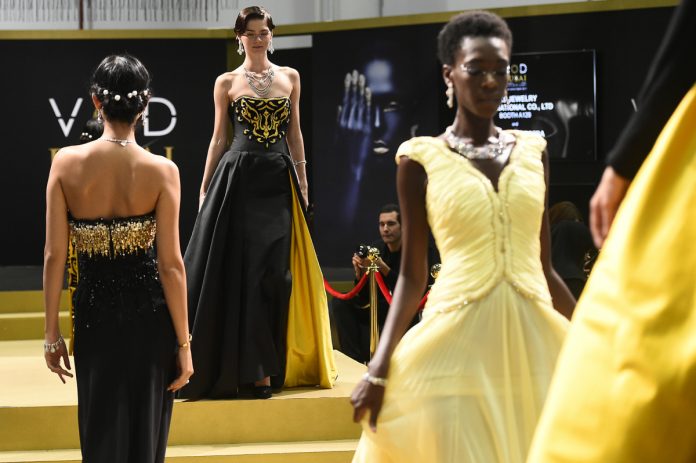 The VOD Dubai International Jewellery Show has closed the doors on its first edition, reporting a very successful debut.
Organised by DV Global Link, a joint venture company between Italian Exhibition Group (IEG) and Dubai World Trade Centre (DWTC), VOD Dubai International Jewellery Show catered to both the trade and consumer sectors via a format which positioned exclusive collections and brand-new product launches into four easily identifiable communities – Global Brands, Fine Jewellery, Gemstones & Diamonds and Packaging & Technology – across more than 200,000 square feet of indoor exhibition space at DWTC.
It has been reported that over 20,000 visitors and buyers descended on the four-day event, with half of the visitors coming from 84 countries outside of the UAE, mainly from the Middle East, India, South Asia and Russian-speaking countries.
Vitally, the exhibition was preceded by an extensive promotional roadshow across the GCC and greater Middle East, Africa and Near Asia, with a show delegation travelling to 25 cities across key markets. Designed to target leading buyers from an assortment of international brands, wholesalers, retailers and boutiques, the exhibition says the roadshow directly resulted in the exhibition's dedicated trade area being a business hotbed.
"Our trade and consumer audiences have responded overwhelmingly favourably to the segmentation, timing and associated events – three of the key elements of our launch concept," shares Corrado Facco, managing director of IEG and Vice Chairman of DV Global Link.
"Part of our success must be credited to Dubai, our wonderful home. As a strategic gateway linking Europe, the Middle East, Africa, India, the CSI countries and Central and Southern Asia, the emirate's global standing as one of the world's major luxury goods capitals has been pivotal. We have welcomed a huge number of buyers from our key source markets and we've seen unwavering commitment and involvement from the local community in terms of consumers and buyers. VOD Dubai International Jewellery Show has successfully become an official business community appointment in the worldwide jewellery agenda and created a globally-respected jewellery sourcing platform in Dubai. We are committed to enhancing and growing the event even further in 2018 with more exhibitors, buyers, features and visitors."
The show also had the support of important strategic partners including ITA – Italian Trade Agency, Dubai Multi Commodity Center (DMCC), Dubai Gold & Jewellery Group (DGJG), Gem Jewellery Export Promotion Council (GJEPC) from India and TRENDVISION Jewellery & Forecasting, which all aided in facilitating a collective platform for sharing client lists, industry knowledge and expertise in trading, training, international conferences and more.
Far more than a promotional platform for stunning fine jewellery and gems, consumers and trade visitors alike praised the event as an all-encompassing experience that comprised a number of interactive events and seminars. Daily jewellery catwalk shows were particularly popular with Dubai's most stylish socialites, as where the informative fashion talks and influencer meet-and-greets featuring top names including Aishwarya Ajit, Nina Zandnia, Nina Ali and Nisa Tiwani.
Another important initiative was the 'New Jeweller Heritage Jewellery Design Competition and Awards' presented by Jawhara Jewellery Group which took place on the closing day of the show. The awards celebrated and paid tribute to the region's young jewellery designers' heritage designs which blended modernity.
"VOD Dubai International Jewellery Show has confirmed to be the undisputed jewellery business trading hub, successfully executing a unique and innovative format that specifically gathers together the international jewellery community," added Facco. "The skills of Italian Exhibition Group and Dubai World Trade Centre, along with the collaboration of our strategic partners, have cemented the show's standing and Dubai's position at the crossroads of world luxury."
VOD Dubai International Jewellery Show featured the entire cross-section of jewellery industry players, from international trade organisations and chambers of commerce, to wholesalers, manufacturers, traders, retailers and end consumers.
News Source: professional jeweller