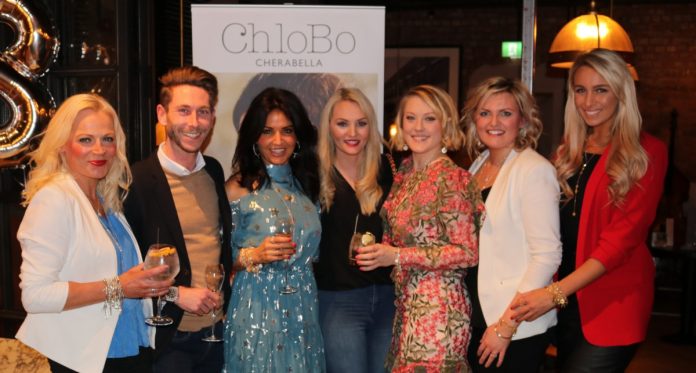 "hen Chloe Moss founded ChloBo over ten years ago, she was way ahead of the trends that are currently dominating the fashion jewellery market today.
Inspired by her travels in Bali, and the stunning craftsmanship and silver designs she discovered, Moss started producing stackable bracelets with the aim of reflecting and encompassing the heart and soul that she experienced on the island.
Today, stacking and personalisation are two of the biggest trends in the UK jewellery industry, and Moss puts the same heart and soul into creating new pieces for the brand.
"ChloBo has been going from strength to strength," creative director Chloe Moss tells Professional Jeweller editor Stacey Hailes. "Our last two season collections – Inner Spirit and the recently launched Cherabella – have been our best to date."
"Considering it's a really tough market we are continuing to grow and do well," the creative director adds.
Professional Jeweller can confirm the success of Inner Spirit around the UK, as independent retailers were quick to nominate the range for our Collections of the Year 2017 silver jewellery category.
Retailers commended Inner Spirit for bolstering ChloBo sales in store, with many claiming it to be the brand's best collection to date. With lower price points and a mixed metal hue offering, the collection allows consumers to easily make self-purchases, and buy pieces as gifts, something Moss attributes to the range's success.
"Inner Spirit has been our best collection," reveals Moss. "I think the price point was right. It was the first time that we hadn't used a bead, we just used mixed metal. I was a bit nervous actually about not using a bead, but we did it and it has just sold so well."
While ChloBo nailed today's trends when she launched the brand over ten years ago, Moss has noticed a shift in the way women now buy jewellery, and has adapted products accordingly.
"Jewellery is seen much more as a style accessory now, and people are buying into quality pieces. I think women feel now that they can buy jewellery for themselves if the price is right. It's much more seen as jewellery can dress an outfit up, if someone has nice jewellery, anybody can feel special.
"Our designs have evolved immensely. I've got a really good design team now who works closely with me. I design all my own charms, nothing is copied, everything is designed by me. We create much more intricate designs now, with lots more detail."
Despite the evolving designs though, the original concept still remains the brand's USP, with consumers loving ChloBo's philosophical aspect whereby each piece has a special meaning.
Looking ahead, Moss wants to continue to create pieces inspired by her travels and experiences, and make sure she is marrying this together with trend-driven designs.
The brand also wants to grow in the UK by expanding its retail network, and building a stronger online presence.
Moss says the brand's retailers are the bread and butter of the company, making up around 90% of the business.
Once stocking the brand, ChloBo looks after its retailers by providing visual merchandising, the opportunity to host 'meet the designer' events and stock exclusive designs, while stores also have access to on-hand support five days a week.
In terms of the customer experience, Moss says ChloBo shoppers want a reliable, easy and personal service.
She explains: "For me it is really important that they get a personal service, and we want our online service to be as personal as our retail stores. I want somebody to be sold ChloBo by someone who really cares and is into the brand. That's why I have never been keen to go into a big department store, because you lose that personal touch."
Online, ChloBo is boosting its social media presence with the help of a brand ambassador – who has has grown the brand massively in Ireland where she is based – and influencers.
"Our social media and email platforms make up a large percent of traffic to our website. Our Instagram and Twitter continue to grow, and with the help of our new PR company we are working with more influencers."
The current bestseller from the SS18 collection is the new Moon Flower hoops, which Moss notes is great to see when ChloBo has predominately been seen before as a stacking bracelet brand. The Lariat Chakra necklace is also performing extremely well.
When talking to Professional Jeweller Moss was in the midst of working on the brand's AW18 designs, but she has to keep her lips tight for now.
News Source : professionaljeweller.com