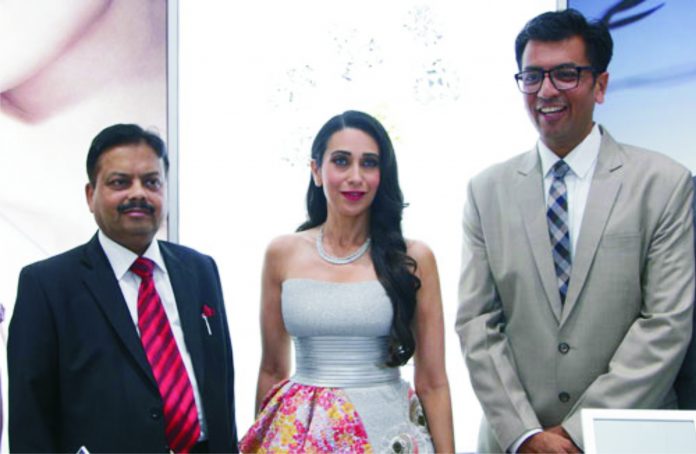 Forevermark recently opened an "exclusive boutique" in Kolkata, making it the second Forevermark Boutique in the world.
The new boutique which is located in Kolkata's South City Mall carries only Forevermark diamond jewellery and has been launched in collaboration with Indian Gem & Jewellery Creation.
"Every Forevermark diamond is expertly crafted and undergoes a rigorous selection while Indian Gem & Jewellery Creation has a reputation of quality, creativity and integrity among its customers," Forevermark said. "The synergy of these two brands has brought about an ideal collaboration to offer hallmark jewellery pieces."
Bollywood star Karisma Kapoor graced the launch wearing beautiful Forevermark jewellery. Speaking on the occasion she said, "It is truly a privilege to be a part of this celebration with Forevermark and Indian Gem & Jewellery Creation as they launch their first exclusive boutique in East India. Forevermark diamonds are the most beautiful, rare and responsibly sourced diamonds in the world. Knowing that less than one percent of the world's diamonds are eligible to be a Forevermark diamond, makes me feel extra special to wear this stunning piece of jewellery today. Each Forevermark diamond has a unique identification number which is a testimony to its promise. Moreover, it is truly an honour to wear these dazzling diamonds from a brand like Forevermark that represents the advancement of women and supports the U.N #HeForShe movement."
Pratik Dugar, Director, Indian Gem & Jewellery Creation commented: "It is an honour to be associated with a brand like Forevermark and its first boutique here in Kolkata. Forevermark is a trustworthy brand that provides you with genuine, natural and untreated diamonds. Each and every Forevermark diamond is inscribed with the Forevermark icon and a unique identification number, which lets our customers know that the diamond they are purchasing is truly and uniquely theirs. Indian Gem & Jewellery Creation and Forevermark have come together to give Kolkata the best there is in diamond jewellery with a wide variety of collections that have been designed by Forevermark."
Sachin Jain, President, Forevermark India said, "This is the first exclusive store that Forevermark has opened in East India and we could not be happier to have done that with Indian Gem & Jewellery Creation, who share similar values and provide fashion forward jewellery to its consumers. Across the globe, Forevermark has just two boutique stores and both are in our very own country – India. This is a huge milestone for us to achieve along with our partner and we look forward to many more such associations."
All the Forevermark collections will be available at the store. These include Capricci – The Nose Pin Collection; Circle of Trust – Diamond Bangles; Traditional Setting Collection; Designer Collections – Artemis &Zanyah, Black Label Collection, Encordia Collection, Cornerstones Collection, Millemoi Collection, Eternal Collection; Trend Collections as well as loose diamonds and diamond jewellery for men.
Apart from the jewellery available, another highlight at the store is the black room enclosure created by Forevermark, housing 12 rare Forevermark diamonds.
"A special display demonstrates how light passes through this spectacular diamond to showcase its brilliance," Forevermark explained. "The beauty of a Forevermark diamond goes beyond the 4Cs and customers can witness this as the light refracts through the diamond across the room in a multitude of colours making for a stunning visual spectacle. It is truly an unforgettable experience for all the Indian Gem & Jewellery Creation customers in Kolkata."
Pic Cap: Karisma Kapoor at the event flanked by Pratik Dugar (lft) and Sachin Jain (rt)
News Source : gjepc.org