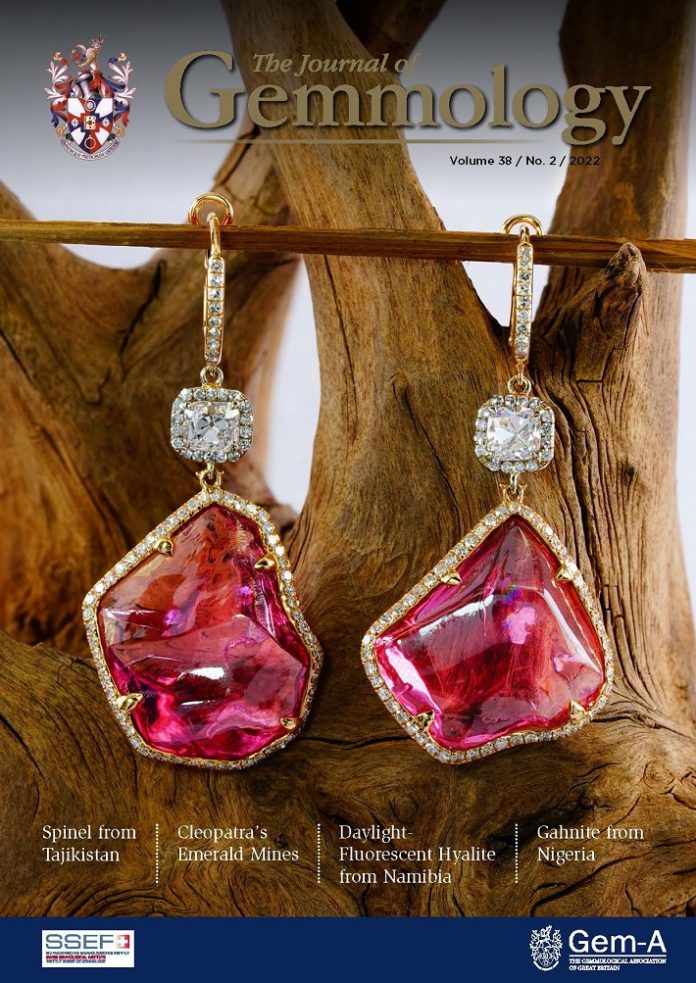 Gem-A Spotlights Gemstone Research with Latest Edition of The Journal of Gemmology
This quarter's respected scientific resource for Gem-A Members and professional gemmologists is now available in print and online.
Gem-A, London, United Kingdom
The Gemmological Association of Great Britain (Gem-A) has launched the latest issue of its academic publication, The Journal of Gemmology (Volume 38, No. 2).
Released on 13 June 2022, this latest issue contains news and research from the international gemmological community, including a cover article dedicated to spinel from the Pamir Mountains in Tajikistan. Further feature articles include a discussion of the "marketing myth" surrounding the ancient Egyptian queen Cleopatra and her links to emerald mining, which was apparently promulgated by a 19th century London-based jeweller.
In addition, the issue contains detailed articles on daylight-fluorescent hyalite opal from Erongo, Namibia, and blue gahnite from Nigeria.
Editor-in-chief, Brendan Laurs FGA, says: "This issue of The Journal provides the latest research on a variety of topics spanning gem characterisation, cause of colour, fluorescence phenomena, historical insights and more. For many decades, readers worldwide have relied on The Journal as a primary source of high-quality gemmological information".
In addition to feature articles, each issue of The Journal of Gemmology contains a Gem Notes section providing brief reports on items of gemmological interest from around the world. In this issue, readers can explore blue sapphires reportedly from Azad Kashmir, the gota de aceite phenomenon in an emerald from Afghanistan (not Colombia), chromium-bearing translucent green common opal reportedly from Peru, the record-setting Serendipity star sapphire aggregate discovered in Sri Lanka, and much more.
The What's New column highlights new publications and online resources useful for gemmologists, while the Learning Opportunities section contains detailed listings of upcoming conferences and educational events to further the professional development of its readers. Finally, the New Media section reviews new books and the Literature of Interest section lists recently published articles in various journals and magazines that gemmologists can use to develop their knowledge further.
A leader in its field, The Journal publishes original research articles on all aspects of gemmology, including natural stones and their treatments, synthetics, and simulated gemstones. It is published quarterly in collaboration with the Swiss Gemmological Institute SSEF and with support from American Gemological Laboratories (AGL).
Issues published in the past two years are accessible to Gem-A members both nationally and internationally. Previous issues are freely available in the Journal's online archive. A cumulative index covering all issues from 1947 to 2021, as well as bibliographies of Journal articles covering specific subjects, can also be downloaded from the Journal's website.
Start receiving The Journal of Gemmology today
Anyone can become an Associate Member of Gem-A and receive printed and online access to both Gem-A publications: The Journal of Gemmology and Gems&Jewellery. Membership costs just £135 per year and comes with a host of benefits.
About Gem-A
The Gemmological Association of Great Britain, or Gem-A, is the world's longest established provider of gem and jewellery education. Our Gemmology Diploma evolved from the first gem course proposed for the UK jewellery trade in 1908, and our prestigious Gemmology and Diamonds Diplomas — taught in seven different languages and 26 countries around the world — are recognised throughout the world.
Gem-A forms an international community of gem professionals and enthusiasts. We serve the interests of the gem and jewellery industries through the high standards of education in our courses and our support for global gemmological research. We also provide various membership opportunities, offer high-quality gemmological instruments, and host a number of educational events throughout the year, as well as two internationally distributed publications, The Journal of Gemmology and Gems&Jewellery.
About The Journal of Gemmology
The Journal of Gemmology has been the official scientific journal of the Gemmological Association of Great Britain since it was incorporated in 1947. It is published quarterly in print and electronic formats. All Individual and Gold Corporate Members of Gem-A receive The Journal as part of their membership package. Institutional subscriptions are available to laboratories, libraries, museums and similar organisations.