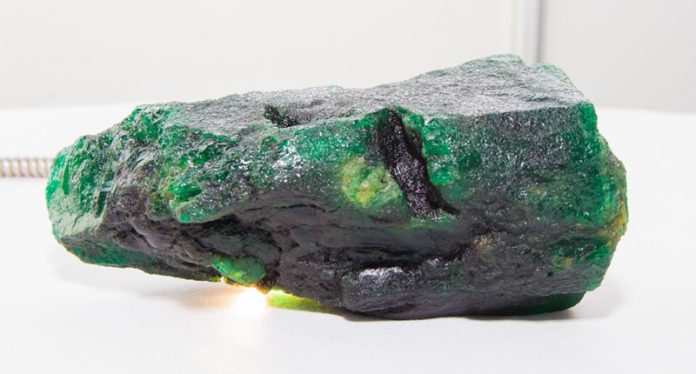 London–Gemfields held its first emerald auction since Pallinghurst took over this summer, and reported strong results. The auction of higher-quality rough emeralds was held in Lusaka, Zambia from Oct. 2 to 5.
Revenues from the sale were $21.5 million, with an average price per carat of $66.21, the second highest ever achieved by the gemstone miner.
One hundred percent of the carats put on auction were sold, but it is also worth noting that 320,000 carats were on offer during the sale, the smallest auction of Kagem higher quality emeralds to date, as a result of reduced production at the mine over the past 12 months.
This included a rare, high-quality Zambian emerald sold to India-based DiaColor for an undisclosed amount.
The 6,100-carat gemstone was discovered at the Kagem mine in 2010 and named "Insofu," which means "baby elephant" in the local Bema language, by Gemfields to reflect its wildlife conservation efforts. Gemfields called the stone "exceptional" due to its size, clarity and colour.
"It's a museum piece for me," said Rajkumar Tongya, chairman of DiaColor. "I don't want to sell it. I would like to enjoy keeping it." The auction also was used to launch the high-technology system to tag and trace emeralds developed by the Gübelin Gem Lab.
The "paternity test" involves applying DNA-based nanoparticles directly onto rough emerald crystals at mining sites, allowing for the traceability of the stones back to the mine of origin, date of mining and any other data requested.
The particles, which leave no visible trace, were infused into five high-quality emeralds purchased at the sale by Zambian company Jewel of Africa.
It was the first time nanotechnology has been used commercially in the gemstone sector, according to Gemfields.
In the future, the technology will only be used at mining sites, Gübelin said, but an exception was made in this instance to demonstrate the process.