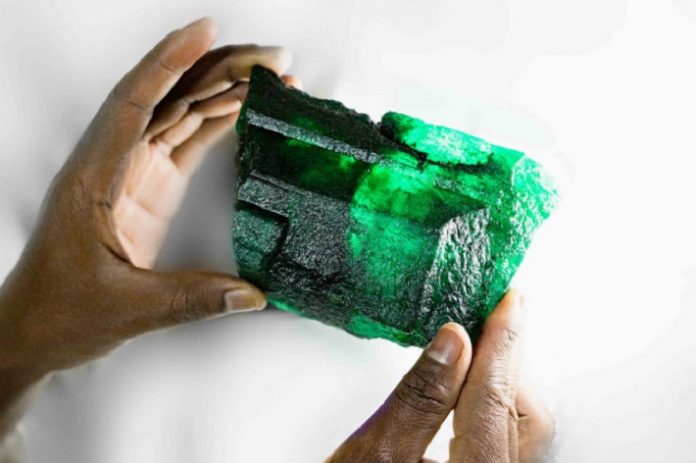 An impressive 5,655-carat emerald, dubbed the Lion Emerald, was discovered at the Kagem mine in Zambia, colored gemstone specialist Gemfields announced recently.
The stone, also known as "Inkalamu," has remarkable clarity and a perfectly balanced golden green hue, according to the company.
Elena Basaglia, Gemfields' London-based gemmologist, commented, "The discovery of this exceptional gemstone is an important moment for us and the emerald world in general. It's difficult to estimate how many individual gems will be cut from Inkalamu but the cutting expertise of Gemfields' auction partners means this gemstone will make its mark in the history books of exceptional gemstones."
Inkalamu was discovered in the eastern part of Kagem's largest open-pit mine on October 2 by geologist Debapriya Rakshit and veteran emerald miner Richard Kapeta. This area of the mine has proven to be particularly fertile in recent months with the Kagem team recovering several significant crystals there, but none with the combined size, colour and clarity of the Lion Emerald.
Gemfields chose Inkalamu, which means lion in the local Bemba language, in honour of the work carried out by two of Gemfields' conservation partners, the Zambian Carnivore Programme and the Niassa Carnivore Project in Mozambique.
The Lion Emerald will be offered for sale at Gemfields' next auction in Singapore in November.
"We expect a number of large, fine-quality cut emeralds to be borne of the Inkalamu crystal," said Adrian Banks, Gemfields' managing director for product and sales. "Given this emerald is such a rare find, it is also perfectly conceivable that the buyer will choose to purchase it as an investment."
NewsSource: jewellerynet