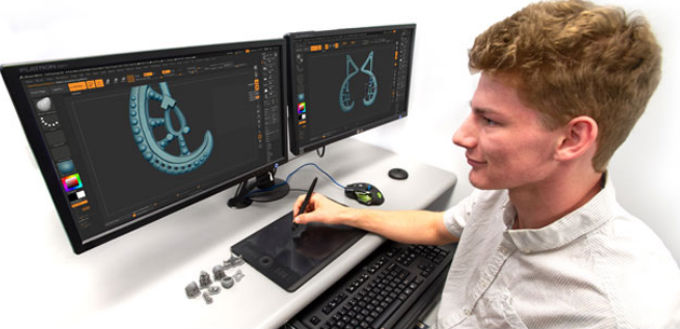 The cutting-edge GIA Jewelry Design & Technology Program includes Zbrush (pictured), which allows jewellery designers to digitally sculpt their latest creation and create stone settings using GIA-developed digital brushes.
The Gemological Institute of America (GIA) has set aside US$2 million in scholarships for established and aspiring gem and jewellery professionals. Those interested in GIA gemmology and jewellery manufacturing arts programmes, distance education courses and lab classes can apply for scholarships offered in the application cycle, which opened on August 1.
Applications for 2019 scholarships are available at GIA.Edu/Scholarships and are due by September 30, 2018. GIA has awarded more than US$8 million in scholarships to more than 1,500 students globally since 2014.
"With changing consumer trends and technological advancements in the industry, it is now more important than ever to have professional qualifications," said Duncan Pay, GIA vice president and chief academic officer. "These scholarships help people follow their dreams and pursue their passion in gems and jewellery."
Scholarships funded by the GIA Endowment Fund and private donors are available for distance education eLearning courses and lab classes, and for programmes and classes
at the Institute's schools in Bangkok, Carlsbad, Dubai, Hong Kong, London, Mumbai, New York, Surat and Taiwan.
News Source: jewellerynet.com