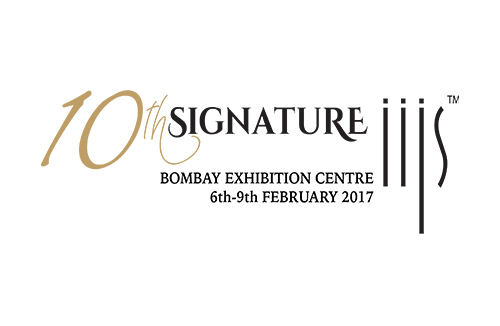 The Gem & Jewellery Export Promotion Council (GJEPC) has announced some modifications in the revised schedule for the 10th Signature IIJS 2017 following discussions with exhibitors particularly in Mumbai and Jaipur. The show will now be a four day event from February 6-9, 2017, opening at 1 pm on February 6.
As reported earlier on www.gjepc.org, in early December, the organisers had modified the format and timing of the show to make it a three day event. However, some of the exhibitors and members, mainly from Mumbai and Jaipur, had expressed their discontent about this change to a three day event.
The Council clarified that the change wwas necessitated due to a comunication from NESCO, received on November 30, that as a result of some dispute with other organisers regarding the booking dates, the exhibition ground would now only be available for IIJS from February 1st to February 11th 2017 midnight only i.e. for 11 days only rather than the 14 days as had earlier been agreed.
Due to this constraint, Council had decided to revise the schedule for the show and instead of a four day show from February 8-11, 2016, convert it to a three day event from February 7-9, 2016. It had also informed all exhibitors that participation charges would be reduced by 10% for all sections due to this change.
After further deliberations with exhibitors and members, the committee has now decided the new schedules for the show as follows:
Date & time of Signature IIJS (For Visitors)
6th February, 2017 – 1.00 pm to 8.00 pm
7th -8th February, 2017 – 10.00 am to 8.00 pm
9th February, 2017 – 10.00 am to 6.00 pm
The 10% discount to all exhibitors at Signature IIJS 2017, as already communicated in an earlier email would continue, although now the show would be for four days keeping in mind the difficult time that the industry is now facing
Entry to the venue for exhibitors would commence on 6thFebruary, 2017 from 6.00 am onwards and from 7th – 9th February, 2017, the Exhibitors would be allowed from 8.00 am onwards. On all four days, exhibitors would be allowed in the Halls till 9 pm.
The relevant cancellation clause in the terms and conditions of the application form have been amended to now read: "If cancelled at any time between 1st December to 31st December 2016, 25% of the total Participation Cost shall be deducted and the remaining 75% of the Participation Cost shall be refunded".
It has however been clarified that in the event of any exhibitor opting to cancel/ reduce its space for Signature IIJS 2017 all other rules of cancellation of participation from Signature IIJS 2017 will hold valid including the loss of preference in stall allocation in future editions of Signature IIJS or any other shows of the Council.
The Committee has assured all exhibitors that it will be conducting extensive roadshow & promotion campaign amongst retailers to ensure a high visitor turnout at the show. It said that there are already 8,142 pre-registered visitors and after extensive tele-calling, almost all of them has re-confirmed their visit to the show.
News Source : gjepc.org