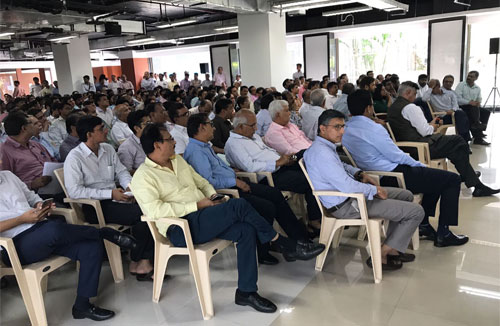 The Gem& Jewellery Export Promotion Council (GJEPC) in coordination with the Bharat Diamond Bourse (BDB) hosted a seminar for exporters on implications of and procedures under the new GST regime introduced by the government. A large number of exporters attended the session which was held in the bourse premises.
The seminar was addressed by Mr. Gajanan Khanande, Joint Commissioner (GST), Mr. Rohan Shah, Counsel and Mr. Praveenshankar Pandya, Chairman, GJEPC, who each spoke about different aspects of the new system.
The detailed presentation by Rohan Shah which covered the procedures applicable to exporters explained the concept of the term 'zero rated supply' which covered the direct export of goods or services or the provision of goods or services or both to a SE developer or unit.
Shah gave a detailed insight into the procedure for applying for refunds of IGST or IST under the above categories, and the various clauses that governed the process. He also enlightened the audience on some of the government circulars that have been issued.
The presentations were followed by an extended Q&A session where the different queries raised by member-exporters were answered by those on the dais.
Pic caption: A large number of exporters attended the seminar on GST
News Source : gjepc.org