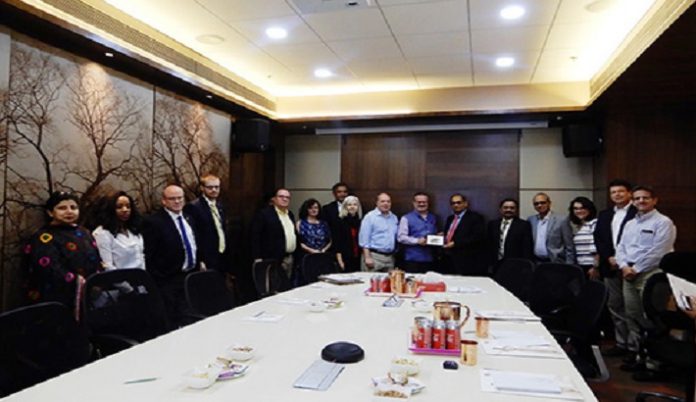 Chairman of The Gem & Jewellery Export Promotion Council (GJEPC) Pramod Kumar Agrawal today hosted a meeting with the US Consul General in Mumbai, David J Ranz and other officials of the US Consulate.
Sanjay Shah, Convener, DPC and Sabyasachi Ray, ED, both from GJEPC and Mehul Shah, Vice President, Bharat Diamond Bourse, also took part in the deliberations while officials from the various concerned departments of the Consulate were also present.
The GJEPC team made a brief presentation on the role of GJEPC, the contribution of the gems and jewellery industry to the country's economy, and its position in the global value chain for the sector.
Stating that India ranked 6th worldwide among countries exporting gems and jewellery products, the Council presentation gave details of the various segments and pointed out that India now exports 93% of the world's cut and polished diamonds.
A brief overview of the trends in India-US bilateral trade in the gems and jewellery sector showed that it had risen from US$ 11.94 billion in FY2015 to US$ 18.67 billion in FY2019, with the US now accounting for 35% of India's total exports of cut and polished diamonds.
Finally, the GJEPC introduced its various ongoing initiatives for the sector, encompassing efforts both at strengthening and modernising infrastructure and boosting employee welfare. The aim was to put sustainable growth at the centre of the further development of the gems and jewellery industry in the country.
News Source: gjepc