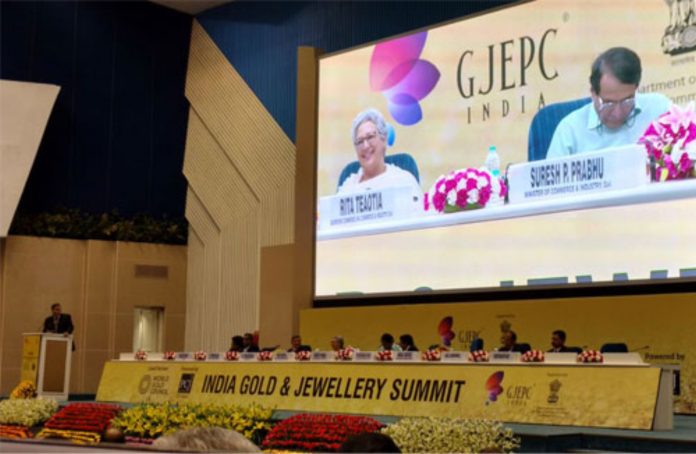 Today, December 1, saw the inauguration of the first ever India Gold & Jewellery Summit 2017, organised by The Gem & Jewellery Export Promotion Council (GJEPC), at New Delhi's grand official conference venue, Vigyan Bhavan.
The conference was inaugurated by the Hon'ble Minister for Commerce & Industry, Government of India, Shri Suresh Prabhu. It was also attended by Rita Teaotia, Commerce Secretary, Ministry of Commerce & Industry and a host of other leading lights of the gold and jewellery industries which included senior representatives of gold miners, policy makers, retailers, bankers, analysts and others.
In his welcome address, GJEPC Chairman Praveenshankar Pandya recalled a similar conclave organised by the organisation in the 1990s, when gold control was first relaxed and jewellery exports were just commencing. "That conference had a positive impact, and I hope this conference will too, as we are now at another key point in the development of the industry," Pandya said.
Pandya also spelt out what the industry perceived as the important tasks to be achieved at this juncture. "There is a need for a clear-cut policy to differentiate between gold as a raw material for manufacture, and as commodity for investment," he said. "There is also a need for a central authority to oversee this sector."
Pandya stressed: " A steady supply of gold is crucial for exporters."
He concluded by saying: "With these few aspects in place, we can achieve the target we have set ourselves of becoming the world's largest manufacturer and supplier of jewellery by 2025."
The Hon'ble Minister of Commerce & Industry Shri Suresh Prabhu in his address to the participants said: "India is the largest consumer of gold; and the love for the yellow metal is deep rooted in our culture."
He expressed his appreciation of the Council organising the conference and said: "It is good that we are exchanging ideas and discussing the various issues before the industry. Once you propose an Action Plan with quantifiable targets and make a commitment towards them, the Government will work closely with the industry to make it possible for the industry to achieve the targets."
Referring to the immense employment opportunities offered by the sector he said: "Every village has a goldsmith; and some more than one. It is a human resource we must develop as a resource to drive growth."
Finally, assuring the industry that the government would work with the industry as a partner, he said the government will "be with you on every step of the journey".
The conference was also addressed by PR Somasundaram, Managing Director, India, of the World Gold Council (WGC).
"We need dialogue to evolve an Action Plan; and all stakeholders coming together in the event will help that," he stressed. "Currently, industry has faced a slowdown and is in an introspective mode. This is an opportunity to go beyond looking at short term solutions to immediate problems, and to develop a long term, broad-based approach to evolve a framework to look at issues."
Somasundaram added: "We can't ignore the fact that gold imports do have a negative impact on CAD, but we should also realise that gold in India is not only about consumption, it is also an investment. Reduced imports due to government measures may have helped control CAD, but have had other unintended consequences. How much, for example, has it affected employment, investment and savings?"
He said that gold is the second most preferred asset class in India after Fixed Deposits (FDs). He pointed out that India's per capita consumption of gold is very low compared to developed countries, so there is a great scope for growth.
"We need to have practical, implementable ideas that can lead to a comprehensive Gold Policy," Somsudaram concluded.
Comerce Secretary Rita Teaotia expressed her satisfaction about the organisation of the conference saying: "I am happy that we are now adding a focus on gold jewellery — diamonds have held centre stage over last few years."
She said gold was a peculiar sector because "it is the only one that 'belongs' to the Ministry of Commerce unlike others which have their own independent ministries also".
Teaotia averred: "This is a real Make in India industry and has huge potential for growth as we are a relatively small player in world markets. We need to focus on design and to integrate this with the skills of artisans. There is a great need to develop institutes for this. It is also important to give importance to Branding and Marketing, and the packaging of the product."
She informed the participants that Niti Aayog has set up an inter-ministerial group to discuss various aspects of the gold policy.
"While this is being developed let us set up more design training institutes and Common Facility Centres in the main manufacturing hubs so that small-scale companies also have access to the best technology," she said. "With these, we can start creating products for each particular market and grow gold jewellery exports."
Balram Garg, Managing Director of P.C. Jewellers presented some of the issues facing the gold jewellery manufacturers, including availability of gold, duty issues etc.
K. Srinivasan, Convener of the GJEPC's Gold Jewellery & Other Precious Metal Jewellery Committee, proposed the Vote of Thanks.
Pic Cap:
The dais at the Gold & Jewellery 2017 Summit with Hon'ble Minister of Commerce & Industry Shri Suresh Prabhu (rt) and Rita Teaotia (left) seen on screen overhead
News Source: gjepc.org