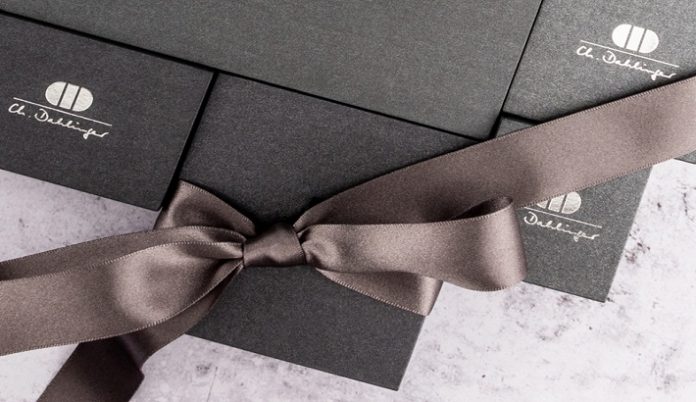 Global packaging giant Ch. Dahlinger has agreed a UK seller partnership with Cheshire-based supplier Hatton and Spencer.
Ch. Dahlinger is to take a fresh new approach to the UK, through which it will connect with jewellers and share a wide product range suitable for a variety of brands, products and budgets – and with prices it says will "surprise".
While the established UK sales agent team will continue to provide face-to-face contact with the jewellery sector, through the new agreement there will be additional UK sales and customer care delivered by Hatton and Spencer, headed by Cathie Osborne, a successful business development expert with a strong history of retailing packaging.
This new partnership also provides for a focus on new B2B openings in the heritage and giftware sectors.
Osborne says: "I've always been drawn to Dahlinger's packaging. It's stunning and really makes a statement – any jewellery with a Dahlinger product will be truly enhanced and its perceived value elevated. Not only this, their products are right on trend with 2019 and 2020's colour and pattern forecasts.
"The market is crying out for exactly what Dahlinger is offering. Style, quality and choice. It's a privilege to be working with this iconic packaging brand and I know we have a really bright and rewarding future together."
Through the new partnership Ch. Dahlinger is keen to spread awareness of its "truly different" products and the breadth of choice available.
Susanne Kappis, head of retail at Ch. Dahlinger, says: "Ch. Dahlinger is known for luxury boxes, gift bags, presentation pieces and bespoke projects with leading brands. However, what jewellers may not know is that we design and stock an extensive range of timeless and on-trend packaging at amazing everyday prices.
"Everything from classic cardboard to premium quality wooden boxes and with every style catered for."
She continues: "I'm delighted to be working with Hatton and Spencer to get our message of choice and flexibility, both on style and price, out there.
"The team are industry experts and so passionate about the positive effects of packaging, therefore we know they're the perfect partner to drive our investment and growth in the UK, alongside our existing sales agents."
New Source : professionaljeweller