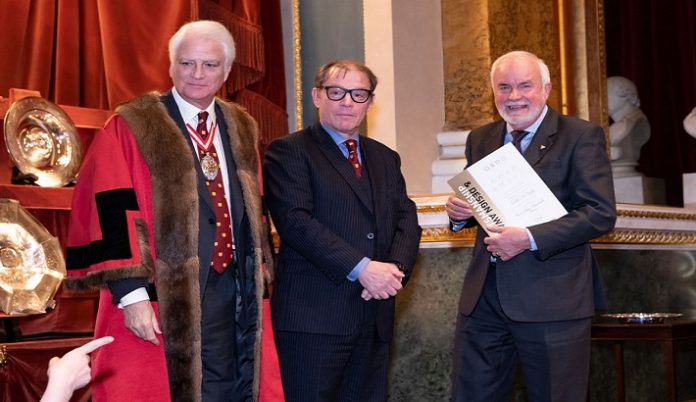 Goldsmiths named its Craft and Design Awards winner for 2019 at a ceremony in London this week.
Held at Goldsmiths' Hall, the event was hosted by Theo Fennell and had over 300 guests in attendance.
Guests included world-renowned jewellery houses, notable sponsors, industry associations and leading designers.
The Goldsmiths' Craft & Design Council (GC&DC), which operates the competition, says it aims to reward excellence in technical skills and creative design in precious metals and related materials.
This year, the lifetime achievement award was presented to Grant Macdonald.
His contribution to the industry, being a pioneer and silversmithing entrepreneur along with being an ambassador for the profession were attributes highlighted during the presentation.
The Jacques Cartier Memorial Award, given for exceptional and outstanding craftsmanship, was awarded to Tony Bedford for his chased head inspired by Rodin's Burghers of Calais.
GC&DC Chairman, Andrew Putland, commented on the awards.
He said: "Congratulations to all of this year's Award winners, who have again impressed the Council and our judges, with fine examples of craft and design skills across many specialist sections. Our expert industry judges frequently commented on the exceptionally high standard of work this year, and we are pleased with the number of entries that met the Council's benchmark for Gold Awards in 2019."
He added: "The Goldsmiths' Craft & Design Council Awards mark a positive start to the year for our junior and senior entrants, and the Council was pleased to celebrate and enjoy their success on Monday night through these great Awards."
In total, 130 winners were honored across 32 categories out of 642 single entries, a number which increased from 500 last year.
NewsSource: professionaljeweller