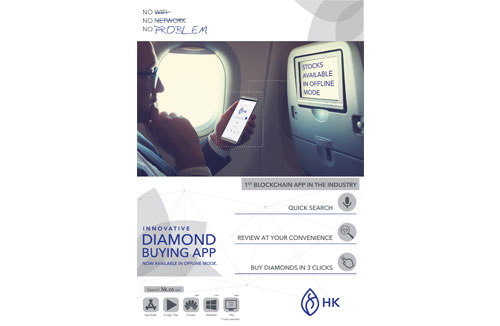 The HK Group recently announced the launch of Version 2.0 of their mobile App.
Ghanshyam Dholakia, MD, HK Group commented: "We understand our customer's needs. We wanted to offer overall security of trade. By using blockchain technology and innovation, we leveraged distributed ledger technology. This initiative will ensure traceability of diamonds and will document its journey from mine to customer while reducing fraud and duplication, thus ensuring customers' faith in HK."
Brijesh Dholakia, CEO, HK Group, said: "There were three primary objectives while developing the App – simplicity, speed and security. The App works on the principle of three simple clicks. The customer can browse the collection of over 25,000 certified diamonds and more. Just open the app, select the diamond you wish to buy; research, verify the facts and buy. As easy as working with us."
Explaining another feature of the App, Ghanshyam Dholakia says: "Taking it a step further the App is developed to incorporate a key feature where the customer can browse in offline mode. All one has to do is download the stock while in network, and then browse at your convenience even if there isn't any connectivity."
Elaborating on the use of blockchain technology, Brijesh Dholakia added: "We have used blockchain technology to ensure that the security of the data is maintained. A blockchain is a digital, decentralised ledger of transactions, which constantly grows as completed "blocks" are recorded. Blockchain technology is secured using cryptography, which means that no one can tamper with the data once it has been recorded, and because the data is stored across its network on multiple locations, it eliminates the risk that comes with holding data centrally. This ensures authenticity of information. The diamond ledger speaks for itself, thus guaranteeing its authenticity."
HK says that the Company has taken one more step forward to provide the transparency and authenticity that the customer deserves.
"Integrity and faith are key requirements for any interaction, be it business or personal," the Company stressed. "Trust is lost when there is repeated inconsistency between a brand and the consumer. HK, a brand synonymous with faith and integrity, values the customer's journey from awareness to action."
News Source : gjepc.org