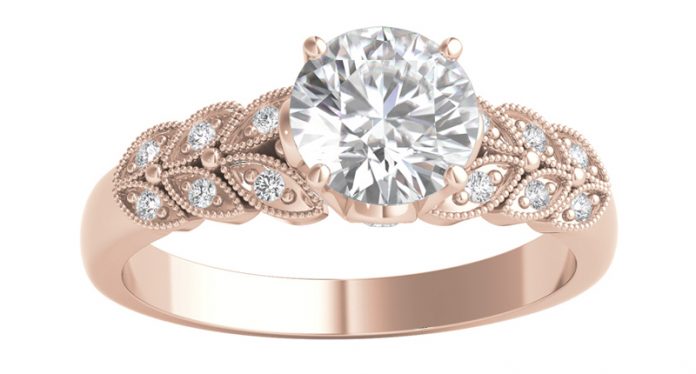 North Kansas City, Mo.–Helzberg Diamonds confirmed Wednesday that it is dropping its just-launched line of Marchesa-branded bridal jewelry for now, a decision that comes in the wake of the sexual harassment and assault charges leveled against designer Georgina Chapman's husband, movie producer Harvey Weinstein.
First reported by The Hollywood Reporter on Wednesday, Helzberg confirmed the news in an email to National Jeweler via its PR firm, stating that it is "not launching the Marchesa brand at this time."
The company declined any further comment.
A spokesperson for Marchesa did not immediately respond to request for comment Thursday morning.
Helzberg and Chapman, who co-designs Marchesa with Keren Craig, announced the launch of their 18-piece collection of wedding bands and engagement rings on Oct. 5.
That same day, The New York Times published a bombshell report detailing multiple incidences of sexual harassment and despicable behavior toward women by Weinstein.
Since the story was published, many more actresses have come forward to recount tales of being harassed by Weinstein, while others have accused him of rape and sexual assault.
Weinstein was fired by The Weinstein Company, which he co-founded, and Chapman has announced that she's leaving her husband of 10 years.
But questions about how much she knew and when linger, and the future of the brand she built is unclear.
Helzberg Diamond Shops Inc. is based in North Kansas City, Missouri, and ranks among the largest specialty jewelers in America, both in terms of sales and store count.
The retailer, which is owned by Berkshire Hathaway, the holding company headed by billionaire Warren Buffett, was supposed to begin taking pre-orders online for Marchesa rings last week, with the collection hitting its 200-plus stores later this month.
Now, a search for the term "Marchesa" on Helzberg.com yields no results, though a few posts about its new collection with Chapman's brand remain on the retailer's Instagram account.
Department store chain Macy's also carries Marchesa jewelry, along with flatware, bowls and china. The retailer did not respond Wednesday when asked if it planned to continue carrying the brand.
News Source: nationaljeweler.com