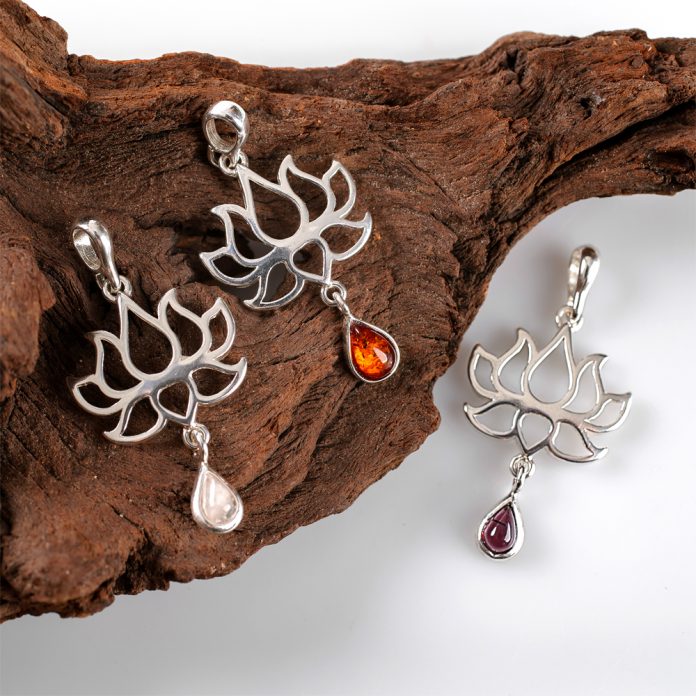 British jewellery brand Henryka is celebrating the success of its Zen collection, which has surged to become a best-selling range since its launch in September 2017.
The spiritual-inspired Zen Collection features four key motifs; evil eye, hamsa hand, lotus flower and dreamcatcher. Henryka interprets these ancient talismans in its own unique style, with the addition of natural gemstones such as Baltic amber, turquoise and rose quartz.
Highlights include the Lotus Flower pedant and matching stud earrings, which were offered as part of a prize draw at the recent Company of Master Jewellers Spring Buying Event.
Other popular pieces include the Evil Eye Drop necklace in sterling silver and turquoise.
The affordable collection taps into the trend for meaningful jewellery designs, giving customers the chance to purchase based on themes such as health, happiness, luck, purity, protection and good dreams.
Henryka founder and director, Anna Emmett, says: "We are thrilled with the success of our Zen collection. The range was developed following our re-brand to show a revitalised side of Henryka, and it is clear our e-commerce customers, retail partners and own-brand boutique customers are inspired.
"What makes the collection even more successful is the story-telling around each piece. Customers are able to buy based on their personalities or capture another individual's personality for the perfect gift."
Now, the brand is expanding the range to keep up with demand for new additions and complementary pieces. It is also preparing for strong sales in the spring and summer as the festival and holiday seasons draw closer.
Prices start from RRP £35 for the Lotus Flower stud earrings and rise to £135 for the Large Dreamcatcher necklace. Other pendants and earrings in the range are priced between £65 and £75.
All Zen Collection pieces are available to Henryka's retail partners, which now number more than 65 across the United Kingdom.
News Source : professionaljeweller.com