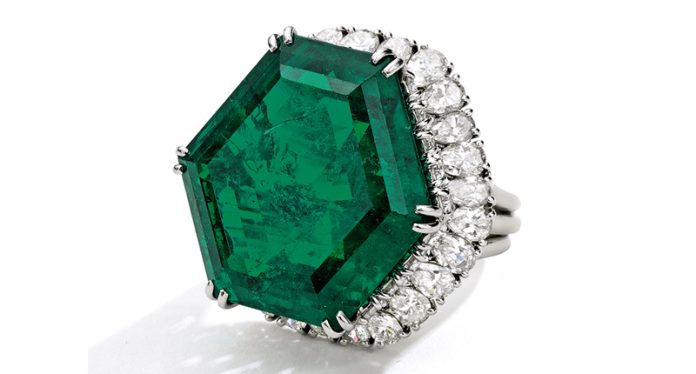 New York–The 34.40-carat "Stotesbury Emerald," which has passed through the hands of three well-known American jewelry collectors in its history, sold for $996,500 Tuesday.
The final hammer price for the stone, which appeared in the Sotheby's New York Magnificent Jewels sale, fell within its pre-sale estimate of between $800,000 and $1.2 million.
The 34.40-carat hexagonal stone has been in a number of different settings over the years, with the style changing based on its owners' desires.
According to Sotheby's, the green gemstone first belonged to American mining heiress and Washington, D.C., socialite Evalyn Walsh McLean, and was set in a Cartier pendant that also featured the 94.80-carat pear-shaped Star of the East diamond.
Just a few years later, after an exchange between her and the jewelry house involving the emerald and the Hope diamond went south and led to a court battle, the emerald ended up back in Cartier's possession.
The next owner was Eva Stotesbury, the daughter of a well-known lawyer. She acquired many of her great jewels during her second marriage, to prominent financier Edward Stotesbury. She had the emerald, which would thereafter bear her name, set in a pendant with diamonds as part of a Cartier suite.
In 1943, that suite was sold to none other than Harry Winston, who set the emeralds in the suite into more contemporary pieces, according to Sotheby's. The Stotesbury was set in a ring, the setting it still is in today, and sold to American socialite, philanthropist and jewelry collector May Bonfils Stanton.
The 34-carat emerald next appeared in the 1971 sale of Stanton's estate by Parke-Bernet Galleries, where it went to a private buyer and has remained until its sale at Sotheby's this week.
The emerald was the sixth highest-grossing lot in the sale, which totaled nearly $29 million.
The top lot was a pair of earrings (pictured above) comprised of two square emerald-cut diamonds weighing 20.29 and 20.02 carats, topped by two smaller square emerald-cut diamonds weighing 1.01 carats each and further accented with small round diamonds weighing approximately 0.70 carats. They sold for $5.3 million.
The earrings were followed by a rose gold pendant, set with an 11.19-carat pear-shaped fancy pink diamond that garnered $2.4 million; an emerald-cut fancy gray-blue diamond weighing 5.07 carats, accented on the mounting by baguette, triangle and single-cut diamonds weighing approximately 0.30 carats, which sold for $1.6 million; and a pair of earrings featuring two suspended pear-shaped diamonds weighing 7.36 and 7.03 carats, topped by six round sapphires weighing approximately 1 carat, which went for $1.3 million.
Also topping the $1-million mark was a cut-cornered square mixed-cut fancy vivid green diamond weighing 1.64 carats, flanked by two cut-cornered triangle-shaped diamonds weighing approximately 0.65 carats, which sold for $1.2 million.
News Source : nationaljewellers.com