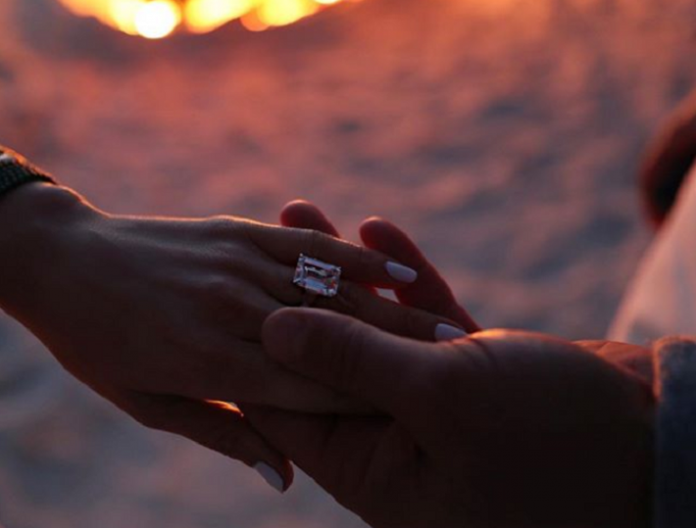 This past year, some of the biggest celebrities in the world got engaged, including Jennifer Lopez and Scarlett Johansson, and with any proposal comes the hotly-anticipated reveal of their ring.
With 2020 marking the start of a new decade, metals specialist metals4u has teamed up with jewellery experts to predict the biggest ring trends expected to emerge during the next 12 months based on the styles taking centre stage in Hollywood.
From coloured stones to pearl and art deco, trends have been analysed as well as including celebrity couples who have inspired them with their own engagement rings.
Coloured stones
Celebrity inspiration: Katy Perry and Orlando Bloom, Elizabeth Olsen and Robbie Arnett
Coloured stones have always been a popular choice among celebrities, with Princess Diana's iconic oval sapphire ring arguably one of the most famous engagement rings ever. Coloured diamonds, rubies and sapphires are the most popular diamond to adorn engagement rings, and many couples choose a coloured gem that reflects the bride's personality.
Katy Perry flew the flag for this style when she announced her engagement to actor Orlando Bloom through an Instagram post showcasing her pink oval diamond, which is encased with eight white diamonds in a floral shape, and was rumoured to cost in the region of £3.7 million. Avengers star Elizabeth Olsen also jumped on the trend with a unique emerald stone, surrounded by a halo of diamonds, signifying her future nuptials to Robbie Arnett.
Matthew Bellingham, of Bellingham & Bellingham Jewels, says: "Coloured stone engagement rings in the UK were the first choice for aristocratic families from the middle ages onwards, when diamonds were still in their infancy as jewel choices. In 1981, Lady Diana Spencer and HRH Prince Charles announced their engagement with a stunning traditional aristocratic sapphire surrounded by diamonds, subsequently worn by Kate Middleton, leading to a surge of interest in this traditional style."
Emerald cut
Celebrity inspiration: Jennifer Lopez and Alex Rodriguez, Jennifer Lawrence and Cooke Maroney
Emerald cut diamonds are a strong choice for a bride seeking a classic style with a glamorous vibe. Commonly, an emerald cut gem is created in a single stone setting, allowing its unique style and cut to shine through.
This style rose to prominence when Alex Rodriquez presented Jennifer Lopez with a striking emerald cut engagement ring – rumoured to weigh around 18 carats. The ring is estimated to have cost a staggering £1.4 million. But J-Lo wasn't the only celebrity engagement that featured this style; Jennifer Lawrence has also been spotted sporting an emerald cut centre diamond engagement ring. The X-Men star's jewel is a solitaire setting on a delicate thin band, bringing a traditional style bang up to date.
Claire Roberts, co-founder of The Vintage Ring Company, remarks: "First popularised in the Art Deco era, the emerald cut is the diamond shape of 2020. Long and lean, with precise linear facets, it has real presence in a single stone ring, combined with authentic vintage charm."
Three stone
Celebrity inspiration: Princess Beatrice and Edoardo Mapelli Mozzi, Lucy Mecklenburgh and Ryan Thomas
Also known as a 'trilogy ring', the three stone first rose to popularity during the Victorian era, when it was believed that the three stones represented the past, the present and the future, but mostly recently has been made popular by Meghan Markle's engagement ring.
Furthermore, Princess Beatrice and her husband-to-be Edoardo Mapelli Mozzi announced their engagement in September, with the ring being visualised by the groom in collaboration with designer Shaun Leane. The style features a single circle solitaire nestled between two baguette diamonds, delivering a stunning and unique take on a classic. Reality TV royalty Lucy Mecklenburgh also favoured this style, choosing a yellow centre stone to take pride of place in her trilogy ring.
Claire Roberts, co-founder of the Vintage Ring Company, shares: "The Meghan Markle effect has seen a swift rise in popularity of three stone engagement rings. While your budget might not stretch to a three-carat diamond centre stone – the estimated size of Meghan's – three graduated or similarly sized diamonds set in a row, or a combination of diamonds and coloured stones, is one of the more romantic styles of engagement ring."
Pearl
Celebrity inspiration: Emma Stone and Dave McCary, Michelle Williams and Thomas Kail
Diamonds have been a traditional fixture on engagement rings since 1477, when the Archduke Maximillian of Austria commissioned a diamond ring to mark his engagement to Mary of Burgundy. But 2019 saw a new stone rise in popularity – pearl.
Emma Stone flaunted her pearl ring on Instagram to let her followers know that she was officially off the market. Her piece appears to have been created by Kataoka, a Japan-based jeweller, and it features a perfect pearl set on a pave setting. Stone isn't the only celebrity jumping on this trend; actress Michelle Williams showed off her own pearl engagement ring, presented to her by beau Thomas Kail, on the Golden Globes red carpet.
Thought to symbolise faith, loyalty and harmony, pearls are often selected as a quirky alternative to traditional stones. But, despite these meaningful qualities and unquestionable lustre, they do require special care to ensure they last a lifetime – and jewellers will need to advice couples accordingly.
Art Deco
Celebrity inspiration: Scarlett Johansson and Colin Jost, Rooney Mara and Joaquin Phoenix
With the new decade christened by many as the new 'roaring 20s', it is no surprise that art deco style engagement rings are back on trend. Geometric patterns, vibrant jewels and splashes of glamour is helping put art deco back at the forefront as a popular choice for brides, complementing a range of personal styles. The art deco style has no rules, so is the ideal choice for those wanting to go against the grain.
Scarlett Johannson's light brown pear shaped stone set on a curved black band is truly inspired by the era, while Joker star Joaquin Phoenix presented his girlfriend Rooney Mara with a diamond set in a unique art-deco shape, a perfect representation of her eccentric style.
Claire Roberts says: "Art Deco engagement rings have been trending for some time now and this will continue throughout 2020. The 20s was a revolutionary era, during which bold colours, geometric shapes and delicate filigree detailing flourished in jewellery design. These unique details stood out then – and still do today – which is why brides-to-be love the Art Deco look."
News Source: professionaljeweller