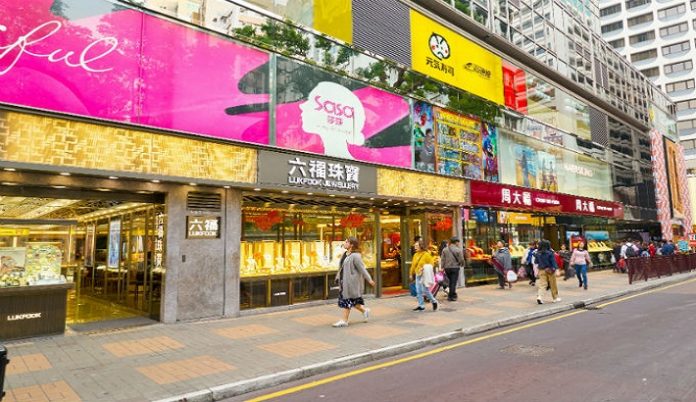 Jewellery sales took a hit from ongoing political upheavals in Hong Kong, coupled with uncertainties arising from the US-China trade row.
Chow Tai Fook Jewellery Group Ltd said Hong Kong and Macau, which were affected by a tough base of comparison and "cautious consumer sentiment," registered an 11 percent drop in same-store sales for the three months ending June 30, 2019.
Sales of gem-set jewellery and gold products were down 16 percent and 13 percent respectively, as consumers curbed spending.
China, meanwhile, recorded an 11 percent growth in same-store sales, with gem-set jewellery and gold products increasing 8 percent and 12 percent, respectively.
Another major retailer, Luk Fook Holdings (International) Ltd, reported a 10 percent decline in first-quarter same-store sales, owing to a relatively higher base and the continuing impact of the US-China trade war on market sentiment.
Overall sales of gold products fell 19 percent but gem-set jewellery sales rose 4 percent. Sales plunged 10 percent in Hong Kong and Macau, and 7 percent in China.
Continuing economic and political disruptions are also taking a toll on high-end jewellery sales in Hong Kong. Luxury group Richemont said sales during the three months ending June 30, 2019 rose 9 percent in Asia Pacific, reflecting double-digit growth in key markets, with the exception of Hong Kong.
"Growth was led by China, where strong sales were supported by lower VAT and custom duty rates; sales in Hong Kong retreated, additionally impacted by the relative strength of the Hong Kong dollar and the recent street protests," noted Richemont.
Overall, sales at Richemont-owned Cartier and Van Cleef & Arpels were up 7 percent, supported by jewellery and watches.