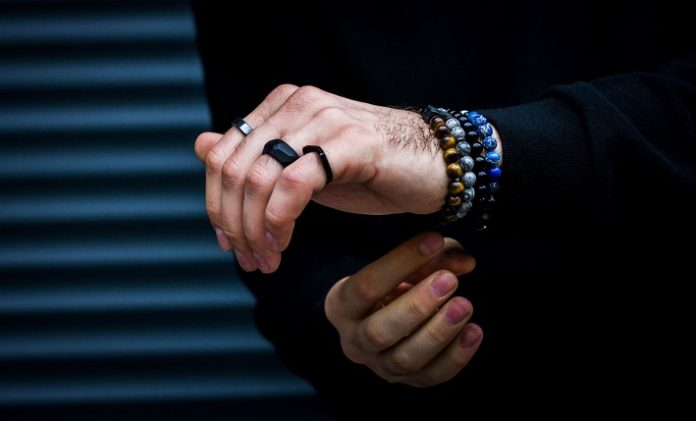 Jewelry and other accessories never fail to elevate anyone's outfit. These beautiful pieces can instantly glam up anyone's dull clothes. If you're a man who loves wearing rings and is currently thinking of ways to wear your tantalum ring, this article is intended for you.
More retailers in the ring industry for men are now selling tantalum rings. In fact, many grooms would prefer them over other metals due to their unparalleled durability, elegance, and masculine aesthetics. If you want to wear something unique and remain handsome, tantalum rings are a great addition to your jewelry collection.
You can apply the following suggestions when pairing them with your clothes and other jewelry.
Match Your Tantalum Ring With Other Metals
Metal—such as gold and silver—is the most common type of jewelry for men. But alas, there's a growing trend for wearing tantalum rings from Etrnl Rings and other reputable brands. However, if you're wondering how to mix and match this metal with other metals, you can follow some tips below.
Combine Tantalum With Silver: Because of the bluish-grey color of tantalum, it makes it great to pair with silver-toned metals. You can go for silver jewelry or stainless steel since they look neutral and will complement the appearance of tantalum rings on your finger. Silver and tantalum both can be categorized as greyish, making them look neutral to complement each other.
They don't clash with anything too sharply, but they don't offer the same eye-catching contrasts as well-worn gold. You can achieve a sleek, timeless look with silver and tantalum jewelry matched with black or dark gray clothing. Likewise, it can be worn with lighter colors in the summer without overpowering the soft colors of your clothing.
Gold And Tantalum: This metal combination is best for those who want to experiment with different looks. From a color wheel perspective, gold reads like yellow accents, as it's a warmer color, while tantalum comes in bluish-grey. Together, they work with earthy and neutral outfits like brown, dark blue, white, and beige.
However, you must be careful, as you might end up with pieces that don't match if the difference in tone is too extreme. So be minimal with your gold accessories; too much yellow tone can distract your overall outfit and look.
Bronze And Tantalum: Bronze is an orange-hued metal, another shade that works well with tantalum rings. Their boldness necessitates restraint when worn. Casual outfits often feature copper-tone jewelry. Hence, you can use a bronze necklace paired with a tantalum ring which is more than enough to elevate a shirt and pants outfit.
You can begin mixing and matching these metals and the colors of your clothing with your tantalum rings.
Balance Your Ring With Other Jewelry
Unbalanced jewelry can draw too much attention to one side or part of your body—something you'd want to avoid. Hence, when wearing tantalum rings, it's best to balance them well with other jewelry pieces. For instance, you can use a necklace.
It's a big no-no to layer down two or more necklaces together. The look can be thrown off by focusing on the necklace jewelry instead of the entire outfit. Go for one necklace and pair it with a tantalum ring, and you're good to go.
Another accessory to use is your watch. Keep your other wrist free of bulky bracelets if you're already wearing a watch on the other hand. When combining jewelry with your tantalum ring, the key is to have a good balance of everything. And remember to apply basic jewelry care to keep them in pristine condition.
Don't Over Accessorize
Over-accessorizing can be a crime in the fashion industry, and this concept applies to men too. Often, you think more jewelry means more formality, but minimalism goes a long way. Keep the rest of your jewelry understated if you're already wearing a tantalum ring.
If you're wearing a wedding band, it's okay to wear a tantalum ring on your other hand. Remember not to go all out and overload your fingers with too many rings. The same concept applies to bracelets and necklaces. Notably, over-accessorizing can ruin any look and outfit.
Pair It Well With Dress Codes
It is common for company dress codes to restrict the wearing of male jewelry in the business world. But there's a way to get around this practice. You no longer have to follow the status quo. In fact, some of the formal business suits look more elevated because of the right jewelry. There's nothing wrong with sporting a tantalum ring while wearing your formal suit attire.
However, some companies restrict the use of jewelry. In this case, you can always follow their rules and wear your rings and other jewelry after work. After all, the tantalum ring is small and can be hidden in your pocket or work bag.
Some other accessories that work great with tantalum rings include cufflinks, tie clips, and lapel pins. The key is to make sure that the color of their metal works together with your overall look. When mixing and matching dress codes with accessories, remember two things: your company's dress code rules and the coordination of the look when put together.
Wear It With Confidence
If you're a man of style, you shouldn't be afraid to push your boundaries. Wearing a tantalum ring can make you appear more handsome and dapper. The ultimate advice for wearing jewelry for men is to wear them confidently. Many guys are unconfident about wearing jewelry, but with good practice, you'll be able to pull it off.
Try things on at the jeweler or department store. Check their tantalum rings and fit them on your ring finger first. You'll be able to instantly tell if it's right for you or if you'll be able to pull it off. Practicing this will familiarize you with how certain pieces appear on you.
Also, it helps to search for inspirational looks online where some models would rock wearing tantalum rings with confidence. You can mimic their looks and how they confidently sport the ring. Your confidence can be built eventually, but the most important thing is to get out of your comfort zone and try things out. You can start slowly and not buy too many accessories all at once. Start with simple items like a plain tantalum ring at first, and then later, you might be able to pull off complex-designed ones.
Conclusion 
Men's outfits can be enhanced with jewelry. To illustrate, a steak without seasoning is like an outfit without accessories. Adding the right spices can enhance good food, which goes the same for your overall outfit. You can quickly transform your look when you know how to wear tantalum rings correctly. Hopefully, you've learned some tips above, and remember, simple pieces are always in style.