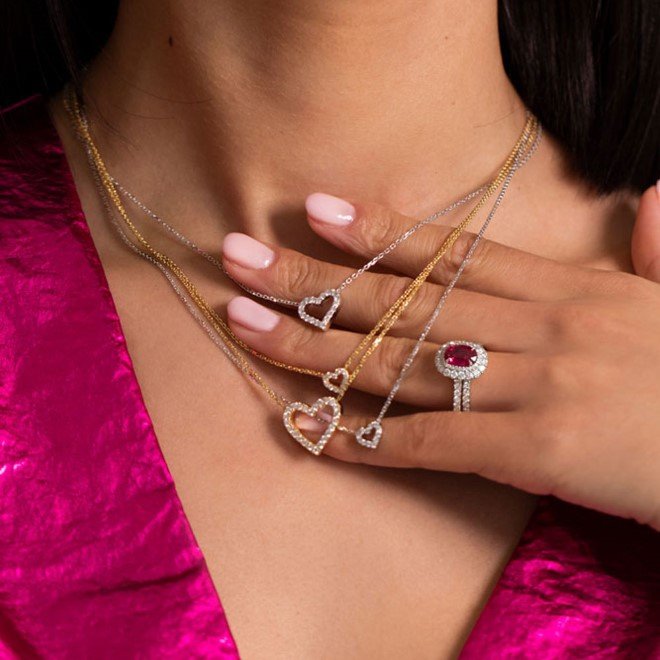 PUT A RING ON IT? NEW RESEARCH UNCOVERS HOW WE FEEL ABOUT BOTH MEN AND WOMEN WEARING ENGAGEMENT RINGS IN 2022
Over a third of all men have worn an engagement ring
Half of all men said they would be happy to wear an engagement ring if they were proposed to by their partners
77% of Londoners believe both people in a relationship should wear an engagement ring
40% of people have worn a ring on their wedding finger in order to avoid unwanted attention
Over 60% of women would opt to wear a diamond engagement ring
New research from luxury British jeweller, ROX, has taken a dive into how we feel about the symbolism of the engagement ring. The new campaign 'I do, do you?' explores the ins and outs of the world of engagements – from faking engagement rings to avoid unwanted attention to whether both people in a relationship can wear an engagement ring.
The findings come to light as 'proposal season' (considered to run from November to February), when more than 40% of the years engagements happen, tails to a close.
Founded in 2002, ROX specialises in bespoke jewellery, diamond rings and luxury watches.
Who should wear an engagement ring?
The independent research found that two-thirds of men have not worn an engagement ring, compared to just a quarter of women surveyed. However, over half of the men surveyed said that they would be happy to wear one if proposed to by their partner.
The survey results suggest that whilst women are 1.5x more likely to wear an engagement ring than their male counterparts, men were considerably more open to the prospect of both people in a relationship wearing an engagement ring. Nearly two-thirds (64.2%) of men believe both people in a relationship should wear engagement rings, whilst women seem a bit more 'traditional' in their thinking on the matter, with a 50/50 opinion split.
There was a clear generational divide in whether both people in a relationship should wear an engagement ring. Around 80% of individuals aged 18-34 are willing to wear an engagement ring whereas, only about a third (35.5%) of those aged 55+ would wear an engagement ring.
Interestingly, Londoners were most open to the idea of wearing an engagement ring, with roughly 77% of respondents believing both people in a relationship should wear an engagement ring. Likewise, more than 60% of those surveyed in the West Midlands and South-East of England also believed this. Most of the other regions seem to have a 50/50 split opinion on the matter.
Modernising Engagements
Historically, men gave engagement rings to women as a gesture to show they can "take care" of her. This was when women were unable to work and make a living. Jumping to the modern age, the tradition of proposing with a diamond ring continues.
"We've seen an attitudinal shift towards engagement rings in the last two years and have received more enquiries from both men and women who are searching for the perfect proposal ring for male partners. Additionally, many of us are looking for more gender-neutral styles of engagement rings that both people in relationships can wear like they do with wedding rings"– Kyron Keogh, Managing Director and Co-founder of ROX.
Is it infidelity?
A quarter of all respondents believe if you're married and don't always wear your wedding ring, you're more likely to be unfaithful.
Men are more likely than women to think that people who don't wear wedding rings are unfaithful, with a quarter of all men saying so. Interestingly, men were also 1.4X more likely to be upset than women if their partner refused to wear an engagement ring, with almost half (47.2%) of all men surveyed saying this, compared to just a third of all women.
Additionally, three-quarters of all people surveyed believe an engagement ring is an important symbol of commitment. Respondents in London and Northern Ireland felt strongest about this, with 35.5% and 36.5%, respectively, believing that without a ring, you're not really engaged.
Interestingly, male respondents felt stronger than the female respondents that if a woman is engaged, she should always wear an engagement ring, with over half (53.3%) believing this.
However, the respondents who identified as female felt stronger about married women wearing wedding rings, with almost 65% believing that married women should always wear their wedding ring. Comparatively, less than 60% (59.5%) of women believe that married men should always wear their wedding ring.
Diamonds are everyone's best friend
While it seems more men are more open to the prospect of wearing an engagement ring, nearly three-quarters of men would prefer some form of band (with or without a diamond) over any other style.
Although it seems diamonds are still a girl's best-est friend, with the new data suggesting that women gravitate towards diamond-based engagement rings: over 60% of all women surveyed said they would prefer to opt for a diamond-based engagement ring. Despite gaining popularity with celebrities recently, 1 in 10 (11.4%) women said they would prefer a ring with a coloured stone
When asked about engagement ring alternatives, Gen Z (those surveyed aged 18-24) were the age group most open to other options, with 1 in 10 saying they would opt for a tattoo to symbolise their engagement instead. The older demographic (those surveyed over 55) were most rigid in wearing a ring to symbolise their engagement, with the majority (58%) saying they would never consider any alternatives to the traditional engagement ring.
Generally, wearing a traditional diamond engagement ring will never go out of style for many reasons. For example, a diamond engagement ring can be considered a highly romantic gesture. Any fiancée-to-be who will receive such a beautiful ring will appreciate the effort and gesture of their partner. The diamond as the centre stone represents the commitment between two couples who are to marry each other. Furthermore, due to the diamond's durability and exceptional beauty, they're regarded as one of the best investments any person can have.
Hence, since diamond remains everyone's best friend, there's no question why many people will still feel good about wearing a diamond engagement ring in 2022. Thankfully, many jewellers and jewellery shops like the Diamondport offer a wide collection of diamond engagement rings that people can choose from. When shopping online, you can check out online shops and other platforms that sell engagement rings to explore your options and choose the perfect one for yourself or your partner.
Avoiding unwanted attention
Despite the old wives' rule that tells us that wearing a ring on your wedding finger before marriage results in bad luck when it comes to finding your potential suitor, 40% of all respondents have worn a ring on their wedding finger in order to avoid unwanted attention!
Nearly 4 in 10 (38.9%) women surveyed said they've worn an 'engagement-like' ring on their wedding finger to avoid unwanted attention. Less than a third (30.3%) of all men said they had done this.
Londoners were found to be most likely to do this, with 44.4% saying they have. Followed by those in the West Midlands, where 43.4% of people said they had done this.
The independent research found that younger respondents were far more likely to do this than their older counterparts, with almost half (46.3%) of all 25-to-34-year old's saying they have done this to avoid unwanted attention compared to just 1 in 5 of those aged 55+.
Conclusion
With the information mentioned above, wearing engagement rings will remain significant for several people across the globe in 2022. After all, different designs for engagement rings have been around in the market, depending on the era. Furthermore, many men and women prefer to wear engagement rings to signify their love and commitment to their relationships, with the former being more open to wearing engagement rings than earlier generations.