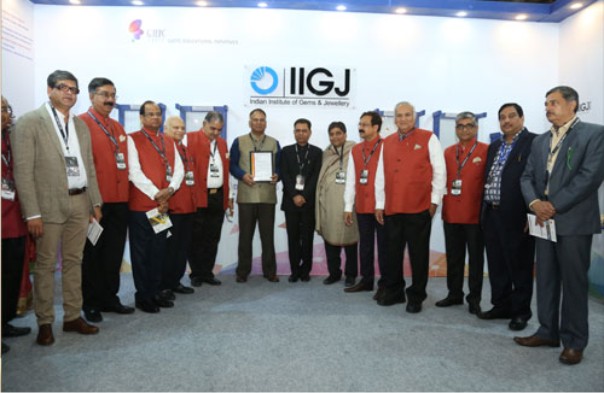 The Indian Institute of Gems and Jewellery Jaipur (IIGJJ) has received provisional affiliation to the Rajasthan ILD Skills University (RISU) to commence Bachelor's and Master's degree programmes from July 2018. The official announcement was made by Dr. Lalit K. Panwar [IAS- (R)], Vice Chancellor, RISU during a recent visit to IIGJ Jaipur and a Certificate of affiliation was handed over to Shri Rajiv Jain, Chairman, IIGJJ in the presence of members of the IIGJJ Board and other prominent members of the trade.
RISU is the first Skill University by Rajasthan Government to be functional and is committed to initiate innovative skill based job oriented programmes which are generally not offered by other universities due to their policies and framework.
Through RISE, IIGJJ will offer six courses in the next academic session including two undergraduate courses, and four post-graduate degree courses, including an MBA in Gems and Jewellery Skill-based Entrepreneurship.
Dr Panwar said that RISU will nurture and hone the capacity of IIGJJ and suggested that the institute could consider starting PhD programmes as well, while aiming to become a world leader in the field of gem and jewellery education.
Chairman IIGJJ expressed his gratitude to the VC and said that the affiliation would be a foundation for future success.
Shri Sudhir Kasliwal, Honorary Secretary IIGJJ, described the decision as the most important milestone in IIGJJ's history, adding that it would mark the beginning of a new era of success and industry service.
Prof. Dhiraj Kumar Principal IIGJJ said that by offering six courses through RISU, the institute was writing a new history in gems and jewellery education. He said that all the six programmes are aligned to the National Skills Qualification Framework (NSQF).
News Source : gjepc.org