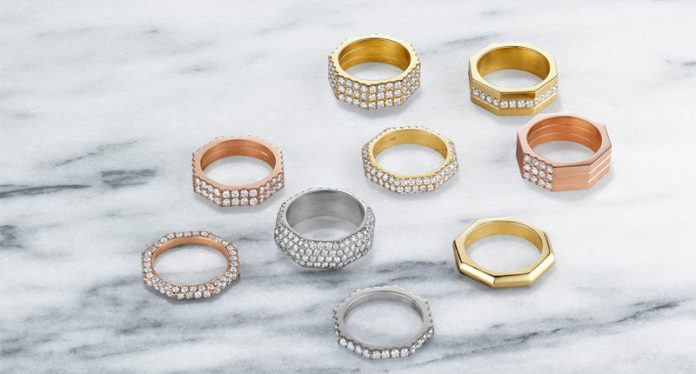 New York–When Lindsey Scoggins launched her eponymous fine jewelry collection last April, she brought a serious amount of jewelry industry know-how to the table.
Scoggins spent nine years at Zale Corp. in Dallas, working her way up from the sales floor to eventually become the company's first director of sourcing, where she was in charge of diamond fashion jewelry.
"I was heavily involved in the aesthetic direction of product," Scoggins said.
She went on to serve as the director of merchandising before leaving Zales and Dallas for New York where she transitioned to the supplier side, working for a major manufacturing company.
Her role there entailed "developing brands for other designers, managing licensing and product development and merchandising," she said.
In the meantime, Scoggins helped create jewelry for private clients, starting with her friends, then branching out to friends-of-friends, distilling her expansive industry experience into a more personally focused design business.
"My clients are really the inspiration behind all of the collections."
"My family really encouraged me to take it seriously because I was essentially doing the same thing (designing) for other brands, just behind the scenes," she said. "That was the catalyst for starting my line."
In April, Scoggins launched her independent business, debuting her designs via an e-commerce site.
Within her brand, there are three separate collections, each composed solely of rings in 18-karat gold and platinum with VS diamonds and the occasional colored gemstone.
The collections possess a modern yet unmistakably bridal quality. Each utilizes a particular design signature, altered slightly within each collection to present a range of options.
Rings from the Time collection
The Chance collection
Select styles from the Still collection
Rings from the Chance collection
Scoggins' designs are wearable and simple, much like the kind of rings Zales is known for, though her take has an edge.
The most modern and elegant of the bunch is the "Still" collection, in which the designer livens up a classic eternity band by rendering it in a hexagonal shape. The concept is simple, but upends the average eternity style while still holding an appeal for a wide range of women.
At her core, Scoggins is very much a designer of romance. She named her "Chance" collection after working with a particular set of private clients on an engagement ring.
"They told me the story about how they met," she explained. "After meeting, they realized that there had been all of these people that had tried to set them up but it had never worked out. Eventually, they ended up meeting by chance. My clients are really the inspiration behind all of the collections."
Scoggins' line retails for about $1,300 to $14,000 with the average piece priced at around $5,000.
This January, she will begin her wholesale business, reaching out to retailers. She hopes to achieve the right balance between retail accounts and her e-commerce site.
"I prefer to build relationships face to face rather than digitally," she said.
News Source : nationaljeweler.com