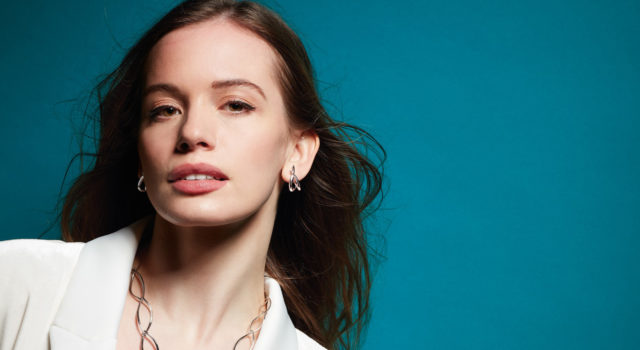 Jewellery brand Kit Heath has unveiled a slew of new updates for its autumn and winter 2021 collections.
Kit Heath's new AW21 collection introduces a new Twine Twist hero necklace that embodies the brand's signature styling and love for bold and luxury sterling silver jewellery.
Co-founder and creative director Katie Nickell commented: "Our interpretation of the statement chain trend has been individually cast and linked (unlike machine produced chain) to give it a beautifully tactile flow and movement".
Designed to be adjustable, it can be styled from a collar length 16 inches to a longer matinee 30-inch length.
Kit Heath has extended its Revival collection, channelling its love for classic and timeless design with a distinctive Kit Heath retro, decorative edge.
Sitting alongside existing Astoria, Deco and Manhattan, the newly titled Eclipse represents day and night, two sides of the same coin, taking centre stage with a penchant for layering and personalisation.
Revival now includes an autumnal palette of royal blue Lapis Lazuli and iridescent Mother of Pearl beautifully inlaid in statement spinners, many perfect for engraving.
Nickell added: "We have new refreshed additions, all in easy-to-maintain rhodium-plated sterling silver, in our favourite Coast Tumble and Pebble collections, including engravable birthstone necklaces, as well as a sprinkling of updated core Bevel, Honey Bees and Desire.
"In 2020 we saw turnover increase significantly for retailers with e-commerce.
"Our omni-channel retailers, those with bricks-and-mortar stores as well as transactional websites were up 50% whilst those who only sold on the high street saw sales decline by 50%.
"We are doing as much as we can to support our retailers. We have produced a digital guide and they can visit our brand asset store for free digital content and selling tools."
Newssource: professionaljeweller