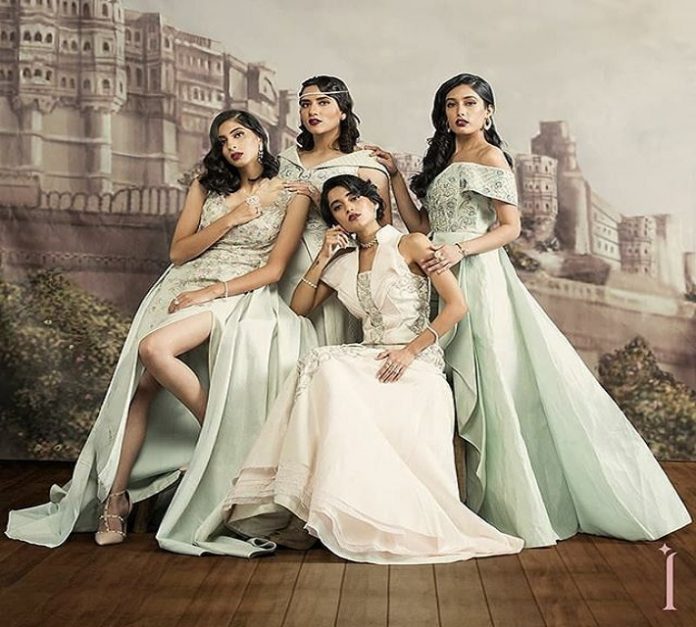 Limelight Handcrafted Diamonds, India's leading jewellery brand launches its collection made from lab grown CVD Diamonds.
Bringing back the glory of the purest Type IIa diamonds, but in a new, sustainable avatar is Limelight Diamonds is the first global luxury brand from India offering CVD diamonds classified as Type IIa by world renowned diamond certifying organisations. Analogous to the concept of test tube babies and naturally born babies where the process is different but the output is exactly the same, CVD diamonds are real diamonds grown in the labs by exactly replicating the diamond creation process which occurs below the surface of the earth bearing the exact same composition, properties & characteristics.
Founded by the young entrepreneur Pooja Sheth, an investment banker from London and a business student from the London School Economics who wishes to give it back to mother earth by crafting a stylish collection of jewellery with CVD Diamonds. Inspiring, beautiful and totally couture, yet easy on the ecology, Pooja took it upon herself to add CVD Diamonds to every conscious diva's wish list. Crafted to perfection in labs and chiselled to take shape and form that is near art.
Each diamond of Limelight jewellery is a Type IIa, the purest form of a diamond, composed of carbon devoid of any other chemical impurities. Type IIa diamonds are the most valued and rare kind of diamonds as less than 2% of the world's natural diamonds are the purest Type IIa. Historically, found in the Golconda region of India (present day Andhra Pradesh), these Type IIa diamonds were extensively patronized extensively by Princely India for its unmatched brilliance and lustre. The world famous Koh-i-noor 105.6-carat, is a Golconda Type IIa diamond. But unlike the natural variety, Limelight diamond is grown inside a lab saving the ecology manifold.
CVD or Chemical Vapour Deposition Diamonds are not just beautiful but they do not bear the burden of mining and save 109 gallons of water per carat and 2.63 tonnes of mineral waste from land. Land mass and water being the most precious and stretched resources today.
"The beauty of technology is that it permits you to enjoy something you could never even dream of. Truly, an industry revolution, CVD diamonds turn dreams into reality by offering Type IIa diamonds that belong to the same league as the Koh-i-noor at the hand of every consumer. At the same time creating a new kind of heritage that is also conscious of the world, that can protect the legacy of the diamond yet preserve the planet for a brighter future for all," feels Pooja.
And symbolically Limelight launches the brand with four young, millennial royal scions who pay homage to the beauty of the Golconda diamonds that their forefathers so graciously wore.
Jema Mrinalika Manjari Bhanjdeo with her sister Jema Akshita Manjari Bhanjdeo of Mayurbhanj are joined by Rajkumari Rajeshwari Kumari Patiala and Pooja Kanwar of Darkoti who together launch the collection and support a conscious and sustainable way of life. Dressed in Samant Chauhan's Winter couture gowns, made from indigenous silks, they revel in supporting 'sustainable style' and 'diamonds with a heart.'
Said Mrinalika, from the royal family of Mayurbhanj "We are millennials who have to also keep a rich legacy alive. These diamonds reflect the brilliance of jewels our ancestors wore. Yet they help keep the planet alive for our future citizens to live in. What could be a better blend?"
"The idea of CVD diamonds is quite innovative and I think it is going to take the industry by storm. The fact that this technology of producing Type IIa quality diamonds is being developed in India itself, it is truly the best way of reviving our Indian heritage with a modern twist." feels Rajeshwari Kumari, from the royal family of Patiala, Punjab.
"Everyone now a days just questions where and how, anything that you wear or you've bought, is sourced. It is comforting to know that with these CVD diamonds, I can exactly tell where it comes from. Supporting a brand like Limelight that espouses transparency and craftsmanship, there's nothing better I can ask for." Says Akshita, from the royal family of Mayurbhanj.
To top it all is the 50% money saved as CVD Diamonds don't incur huge mining costs which ultimately is passed on as a benefit to the consumer.
A young professional herself, Pooja, founder & MD of Limelight states that, "Millennials view jewellery in a new light. While their discretionary spend is second highest on accessories, they will respect stones that save the environment and also are chic and stylish in their design and appeal. Limelight wishes to talk to these caring, young citizens of the world."
"Times have changed, in my view. As a young custodian, whilst I truly appreciate the heritage jewels of my ancestors, I also prefer jewellery that isn't very heavy but rather clean, minimalistic and uniquely designed. I was quite impressed to see Limelight Diamonds' latest CVD jewellery collection, that perfectly fits my style and the fact that it is pocket friendly is an icing on the cake." Says Pooja Kanwar, Royal Princess of Darkoti, Himachal Pradesh.
Limelight Handcrafted Diamonds: Redefining Brilliance
Limelight Handcrafted Diamonds is India's first luxury brand offering the most exquisite & carefully hand crafted lab grown CVD diamond jewellery.
Further, this brand produces jewellery that is affordable yet finest quality as their diamonds are not mined but created in laboratories using the CVD technology. Analogous to the concept of test tube babies and naturally born babies, these CVD diamonds have the same optical, chemical, thermal and physical features as mined diamonds but unlike them, lab grown CVD diamonds allow customers to manifest the purest Type IIa diamonds, which is a rarity in natural diamonds. Less than 2% of the world's natural diamonds are Type IIa diamonds.
Limelight diamonds are set apart by their ability to begin a radical new trend of diamond jewellery. Limelight maintains luxe and grandeur while maximising comfort, value and style.
Headquartered in Mumbai, Limelight Diamonds are backed by one of the world's largest CVD diamond growers – the Bhatwari Group. With the laboratories based in Surat, the Group annually produces large volumes of lab produced rough diamonds, unmatched in the world.
Their direct access to one of the largest growing source distinguishes Limelight Diamonds and empowers them to deliver a wide range of superior quality and grades of Type IIa diamond jewellery at a large scale. This aids them in accomplishing their aim of offering only the finest and nothing else. Striking a perfect balance between innovation and tradition, Limelight relentlessly endeavors to be the extraordinaire and redefine brilliance.
New Source : diamondworld