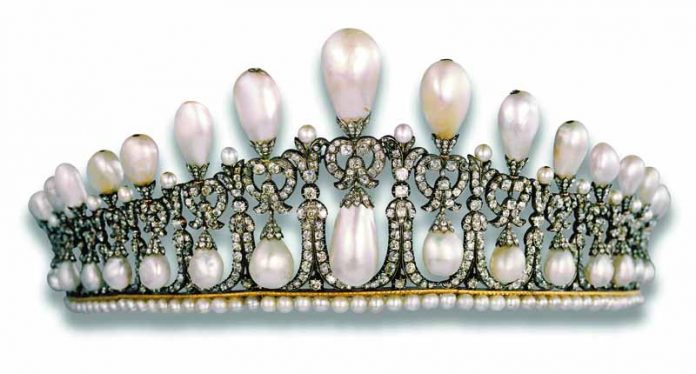 New York–"This is the story of Christie's and its 250 years as the world's leading auction house, written in jewels, the most fascinating language of all," says François Curiel, chairman of Christie's Asia-Pacific, in the foreword to Christie's: The Jewellery Archives Revealed, out this month.
True to this statement, the book's author Vincent Meylan illuminates the lives of the original owners of the jewels that passed through, and ultimately helped to define, the auction house.
As the cliché dictates, Meylan's well-researched histories illustrate how life can be stranger than fiction.
Take the Madam La Comtesse du Barry, an official mistress of Louis XV who amassed a fortune of jewelry from the king. During the French Revolution and after the king's death, when the Comtesse was again referred to by her birth name, Jeanne Bécu, she was robbed of a large amount of jewelry.
She lost "30 or so rings with inserts of sapphires, emeralds and large diamonds," as well as "64 loose diamonds," among many other jewels, which totaled $1.5 million livres (the French currency of the day).
Bécu made a public fuss of the robbery, advertising a reward for the jewels' safe return.
To flaunt wealth during the French Revolution, however, was to paint a target on one's back.
News emerged of thieves in London who were trying to sell jewelry that matched the description of Bécu's stolen jewels. Becu traveled back and forth between London and Paris several times in an attempt to retrieve the pieces, which were caught in a legal quagmire.
The amethyst and diamond necklace of Queen Alexandra. The Property of Princess Maud, Countess of Southesk.
(Christie's London)
A diamond tiara, from the collection of Elizabeth Taylor.
(Christie's New York
The cameo in the belt presented to Empress Marie-Louise by Napoleon I.
(Christie's London)
An emerald and diamond necklace by Bulgari, from the collection of Elizabeth Taylor.
(Christie's New York)
Despite advice from her attorneys to stay in London, away from the revolution, Bécu returned to France, remaining there until she was arrested by revolutionaries and sentenced to death.
Just as jewels were her demise, Bécu hoped they would offer her redemption.
She revealed the hidden locations of her staggering jewelry collection in an attempt to barter for her life; these jewels would go on to finance the revolutionary war effort. Ultimately, her efforts were in vain, as she was executed in 1793, only a matter of weeks after Marie Antoinette.
Two years later, Bécu's stolen jewelry came into the possession of James Christie, who founded his auction business in 1766.
"The auction comprised 65 lots," writes Meylan, "featuring 1,000 pearls; 150 brilliant diamonds, weighing between 1 and 12 carats; 1,200 smaller diamonds; and some stones of colour. Unfortunately, none of the stones were mounted. The stolen jewels had been broken up by the thieves to avoid suspicion."
The new book on Christie's goes on to recount the fascinating provenances of many of the auction house's lots throughout history, focusing on royalty, like Mary, Queen of Scots and HRH, Princess Margaret, and Hollywood actresses, such as Merle Oberlon and Elizabeth Taylor.
Ultimately, Christie's sales history becomes a microscope through which to view human society, culture and socioeconomic situations. While the jewels may disappear into private collections, the records they leave behind become permanent in this fascinating tome.
News Source : nationaljeweler.com