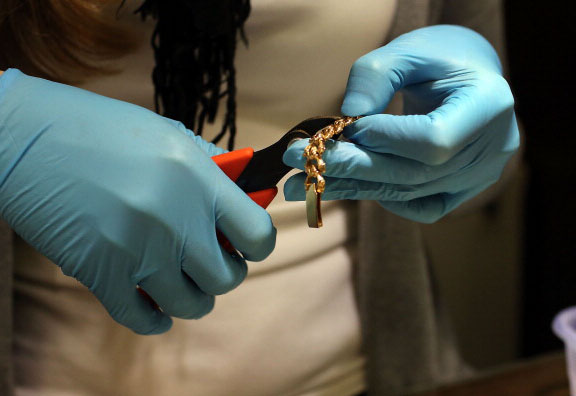 Over half of low cost necklace jewellery components have excessive levels of toxic materials It has been revealed in a survey, conducted by the London Trading Standards.
Fifteen London authorities took part in the survey sampling 30 non-precious metal necklaces which were bought from stalls and shops across London. Individual components of each sample were then tested for lead and cadmium content and nickel release levels.
EU Regulations, known as REACH (Registration, Evaluation, Authorisation and Restriction of Chemicals) regulates the use of nickel, lead and cadmium.
Lead and cadmium are known to be toxic metals and as such the levels allowed in jewellery are restricted to 0.05% and 0.01% by weight respectively. It was discovered that in the worst cases parts contained 82% lead and 56% cadmium.
Of the 30 items tested, 19 samples were non-compliant (63.3%), only 11 variants (36.7%) had acceptable levels of lead, cadmium and nickel release and 50% were found to be in excess of lead, with the highest content level being 82.4%
John Milligan, chairman of The Jewellery Distributors' Association said: "These results come as no surprise to my organisation which supports responsible jewellery businesses. The REACH regulations are expensive to comply with, in terms of testing, and, no doubt, expensive to enforce for hard pressed local trading standards.
"The temptation to cut corners by less scrupulous suppliers means law abiding jewellery manufactures and importers face a major competitive disadvantage which threatens their very survival," he added.
The risks from high cadmium content are most acute during the manufacture or alteration of items, when its vapour may be inhaled and so actual end users should not be unduly alarmed by these findings.
Nickel is known to create a sensitivity reaction and is the most common cause of contact allergy in Europe. The rate of release of the metal is restricted by safety regulations to 0.88μg/cm2/week yet. One sample found had a rate of over 60%.
As a result of the findings, trading standards have been working to ensure corrective action is taken against the suppliers concerned and that the products are removed from sale.
Steve Playle, spokesperson for London Trading Standards, said: "Some manufacturers and importers of low cost jewellery clearly need to improve their quality standards to ensure legal requirements are met. We urge suppliers to make sure they source stock from reputable traceable sources and ask for proof of compliance"
News Source: professionaljeweller.com