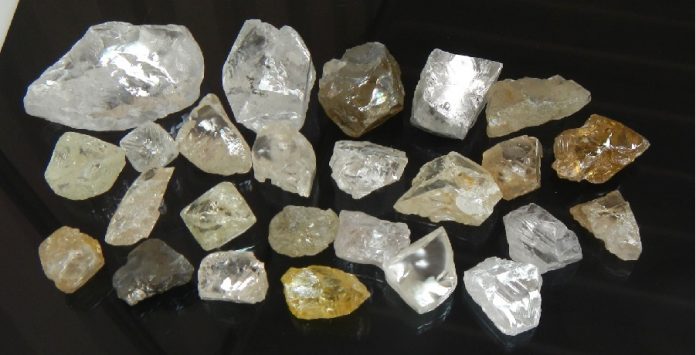 Lucapa Diamond Company Ltd reported a 10% increase in recovery of diamonds to 4,507 carats in the first quarter of 2018 that ended on March 31 (Q1 2017: 4,098 cts), while releasing its quarterly update last week. It added that this included a 53% increase in the number of Special diamonds recovered to 58 (Q1 2017: 38).
The Company is currently engaged in mining activities at the Lulo mine in Angola in association with its local partner and the government under the banner of Sociedade Mineira Do Lulo (SML), besides development of the Mothae mine in Lesotho and exploration activity at the F project area of the Orapa kimberlite in Botswana and at the Brookings project in Australia. The focus is on expanding high-value diamond production from multiple sources.
During the quarter, the Company sold 6,242 cts, a 39% increase over the 4,498 cts sold in Q1 2017 for revenue of US$ 10.8 million (Q1 2017: US$ 10.7 mn), representing a 27% decline in the average price to US$ 1,731 per carat (Q1 2017: US$ 2,370 per carat).
The Company said that the Lulo mine continued to regularly produce large and premium-value diamonds throughout the quarter with the recover of 58 diamonds weighing more than 10.8 carats). This included two +100 carat diamonds (116 carats and 103 carats), taking to 10 the total number of +100 carat diamonds recovered to date from Lulo.
The most valuable premium-quality diamond recovered during the Quarter was an 85 carat Type IIa D-colour gem, while a 43-carat yellow diamond was the largest coloured gem-quality diamond recovered to date, Lucapa said.
Diamond grade improved 26% to 7.3 carats per 100 cubic metres, though throughput was down by 13%, primarily a result of the extremely heavy rain that fell during this Angolan wet season, which generally finishes in April.
At the quarter end, SML reported a US$13.1m cash balance and a closing diamond inventory of 3,047 carats.
Lucapa said that drilling of primary source kimberlite targets continued throughout the Angolan wet season.
At the Mothae project, construction of new 150 tonnes per hour diamond plant with XRT large-diamond recovery technology was on the budget and on schedule for H2 2018 commissioning.
Pic courtesy: Lucapa Diamond Company