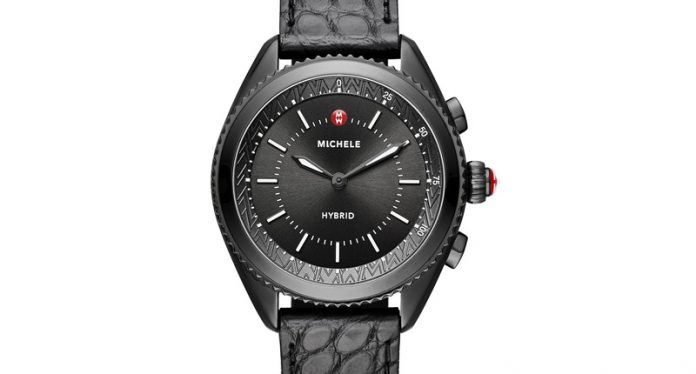 New York–Fossil-owned watch brand Michele has introduced its first smartwatch in an effort to better compete in a price range now crowded with smart devices.
The Michele Hybrid Smartwatch (labeled "hybrid" because it looks like a traditional watch but has smart functions) is 38 mm, comes in four color ways with an alligator strap that is interchangeable, and can receive notifications, track sleep and steps, control music, ring the wearer's phone and direct the phone to take a picture.
The timepiece has a traditional watch face, so the buttons on the side are what the wearer uses to set and control the smart functions, which can be customized via its app.
The design of the Michele smartwatch is based on the cases in the Belmore collection but is slightly bigger (38 mm instead of 37 mm) and retails for $495.
One independent jeweler who carries Michele, Sean Dunn of J.R. Dunn Jewelers in Lighthouse Point, Florida, said at his store, they are "super excited" about Michele coming out with a smartwatch and the possibility it brings to lift sales for the brand.
"A lot of watch brands, especially those that hovered around the $500 to $2,000 price points, have had challenges in the recent years. One cannot help but think that wearables and smartwatches contributed to some of that, even if it was a small part," he told National Jeweler via email. "Fossil is smart by jumping into the game and we are thrilled to have the Michele Connected Hybrid to offer online and in store. We hope that this push by Fossil and the big boxes will reignite sales even for the independents like us."
Dunn added that if the Michele smartwatch performs as well as the TAG Heuer smartwatch has in his store, he will be "elated."
Fossil is selling the watch online at Michele.com as well as at department and specialty stores.
News Source: nationaljeweler.com