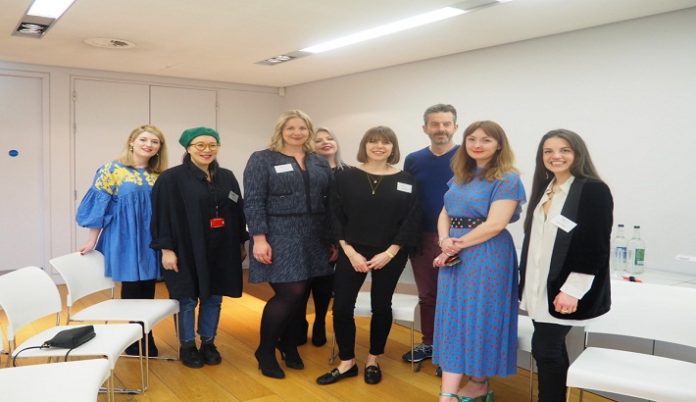 We've hit a moment of major change, globally, in terms of women's roles, rights and representation, and undoubtedly it is time for the UK jewellery industry to sit up, listen and be open to major shifts in industry attitudes towards the enhancement and opportunities that women are provided.
Some argue that there is no issue in the UK trade — making claims such as 'women are supported', 'they have opportunities the same as their male peers', and 'why do we even need to talk about gender issues?', but it would be naive of the entire jewellery industry to take the stance that these issues don't exist, or to think itself immune, when there is factual evidence that highlights inequality across different areas of business.
For those making such comments, the launch of the Women's Jewellery Network (WJN) in 2017 revealed otherwise. There is a need for this and the WJN is well placed to begin inspiring necessary change within the UK jewellery industry.
Making our debut at International Jewellery London last year, the WJN was overwhelmed with the response to an inaugural drop-in session for women and men to learn more about the WJN's plans — in fact, around 100 women and men from all walks of the industry attended, filling a space designed to accommodate just 25 people.
Our recent sold-out events in London and Birmingham to mark International Women's Day were also testament to the fact that women working in the UK trade wish for greater career support, and are ready to discuss how the industry must change with those in leadership positions.
In London, we spoke with audience members to find out why they attended. Almost all wanted to connect with others – they sometimes felt lonely or isolated in their roles – and wished to engage in business-led conversation, be inspired, and find opportunities in an environment where they felt confident to discuss plans, ideas or concerns.
During the panel discussions at the London event, some highlighted the bullying and competitiveness they faced at work – citing matters with female colleagues in particular – and asked for advice on how to professionally handle this; others discussed feeling patronised by attitudes in the trade — leaving them apprehensive to ask questions of their peers or push themselves professionally.
But the times, they are a-changing. Not only are women speaking up about their expectations for opportunities within the jewellery industry, they are making their mark and supporting others by taking action themselves. Some, such as Jennifer Ewah of Eden Diodati, are designing collections that support and empower craftswomen in disadvantaged communities, while others like Dinny Hall are using jewellery design to impart social messages — such as supporting and celebrating the all-important suffragette movement.
Some are boosting women's career prospects through mentoring and apprentice programs. Hearteningly, 33% of the apprentices on the Goldsmiths' Centre's Foundation and Apprentice Programme are women, and over 50% of its recent pre-apprentices are females aged 16 to 19. Elsewhere, online education platform Mastered reports that 80% of its Accessories: Mastered course professionals are women seeking further career development in the industry. And as 2018 continues, events such as those hosted by the Women's Jewellery Network will help others to build their professional connections and confidence in their career directions.
So why is this happening now? Because the jewellery industry has been slow. Its various facets are predominantly rooted in patriarchy and it has dawdled in its response to the changing times and attitudes towards women. It's time then for the trade to address diversity at all levels, with feedback from our events revealing the need for our industry networks to become much more open and inclusive.
You only have to look at recent figures from a Financial Times and Richemont Group study to see how stark a contrast exists for women leaders at the very top of the food chain. Richemont, the company that owns brands such as Cartier and Van Cleef & Arpels, has an all-white board comprising 18 men and just one woman. Only this year has it inducted its first-ever female CEO for a jewellery and watch brand, Chabi Nouri, who now leads at Piaget.
We have also seen both Stella Layton and more recently Judith Cobham-Lowe hold senior positions at UK Assay Offices, breaking years of tradition as the first women leaders in roles that have previously been dominated by men. Similarly, WJN founder Victoria McKay is the first COO of the London Diamond Bourse, a position she proudly holds in what was a traditionally male environment, and one that has driven a significant rise in female members since her appointment in 2014.
We must point out, however, that this call for industry awareness is not about women vs. men. Men are encouraged to join the WJN, and in fact it's the men in our industry that we are speaking to — come to our events, ask how you can help or how we can help you, think about how the business you work in could evolve to better meet the needs of female employees or business customers.
With leaders such as London mayor Sadiq Khan declaring himself a feminist, and closer to home, the new CEO of the NAJ Simon Forrester pledging his support of women in the trade, those that aren't open to the conversation of supporting women will ultimately find their opinions obsolete and irrelevant.
In his own words, Forrester has expressed his support of McKay's statement that the WJN is provoking "a positively disruptive conversation" in the UK industry. Forrester himself was part of the audience at our Birmingham International Women's Day event, listening to discussions that highlighted the need to make traditional trade networks more accessible to women, and commitments to evolve company culture and leadership. He has since stated that it's time for the industry – and its myriad divisions – to embrace change, nurture the leaders of tomorrow, and help everyone achieve their potential —and the WJN looks forward to working with the NAJ on future collaborations to support women in our industry.
The Women's Jewellery Network believe it's time for open discussions. It's time to create opportunities, connect women with peers – male or female – that will nurture their professional development, whether at the very beginning of their career in the jewellery industry, returning to work after maternity leave, or perhaps taking a change of career direction.
It is also about doing so in professional settings, and in a manner that is respectful, honest and most of all conscious of just how much the world has changed in recent years and that, as an industry, we should proudly strive for equality for all.