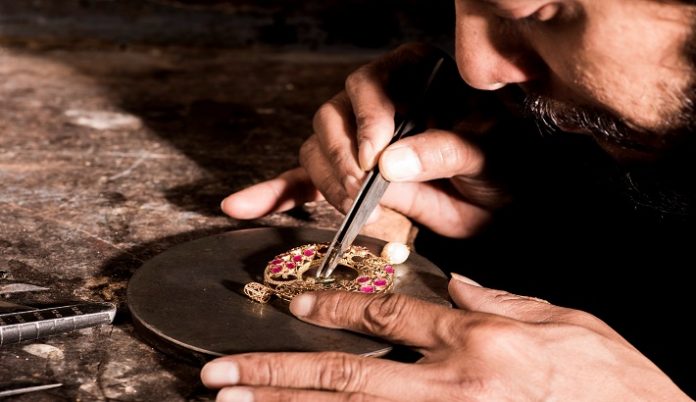 Gold jewellery featuring contemporary form and traditional elements have been a significant adornment of woman since ages. India is not only the largest consumer of the yellow metal but also a leading exporter of handcrafted jewelry to the world. And it is here that India's artisans or karigars have played a dominant role in preserving these rich traditional crafts. It is their skills and expertise in turning out intricate designs into handcrafted jewelry that has won us an enviable reputation across the globe. While these beautiful embellishments signify wonderful moments in people's lives there is also a dark tale lurking behind this glittering metal. India's oldest art form of handmade jewellery is in grave danger as the industry is slowly losing its hands!
As we delve further into the nuances of this trade we understand that most of these artisans follow the conventional method of jewellery making to produce handcrafted jewellery. They are compelled to work in the customary work environment where they are exposed to lethal fumes that pose serious health hazards. Moreover, poor wages and long working hours have made their survival vulnerable. These karigars who were once celebrated for their royalty in handcrafted masterpieces have now been forced out of their occupation. While many of the skilled artisans have left the industry the younger generation prefer to work in other smalls scale establishments than learning the traditional craft. This, in turn, has resulted in a huge shortage of skilled labor in the jewellery industry.
P Mangatram Jewellers, a leading name in the world of studded jewellery has taken an initiative to preserve the oldest art form of handmade jewellery. The Hyderabad based jewellery powerhouse renowned for its best ornate pieces understands its responsibility towards the nation and is leaving no stone unturned to preserve its rich heritage. The company celebrates artisanship by partnering with the artisans, empowering them and showcasing mesmerizing pieces of art that have lasting social impact. Every piece of handcrafted designs is accompanied by a signature of the artisan who makes the jewellery truly unique.
Sanjay Gulabani, Director, P. Mangatram Jewellers Pvt. Ltd. said, "We pay tribute to the wonder of artisanal excellence, the real gems of the jewellery industry. Ever since our inception, we have been nurturing homegrown talent as they are ones who understand the core value of jewellery craft. Economic empowerment of these karigars has always been very dear to us. We strive to provide the best environment, financial assistance, equipment, and qualitative training to boost their creativity. Every piece of our collection is a signature of human touch, an endeavor to preserve the heritage of handmade jewellery. We owe every bit of our success to our karigars as they are the souls of our enterprise"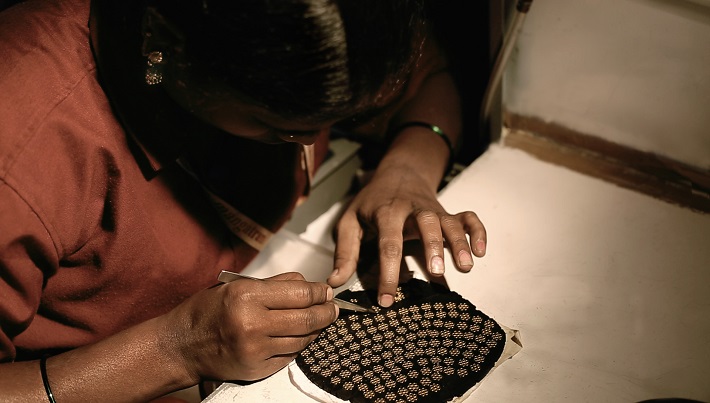 Each of the karigars at P Mangatram Jewellers work at the state-of-the-art manufacturing facility, with the latest equipments, dedicated workstations, and fully air-conditioned cubicles. The company provides skill development workshops, periodic health checkups, and medical insurance. The artisans draw fixed salary, incentives and employees related benefits. To further upgrade their skills, especially to meet the demands of international clients, they have been given extensive training on the latest techniques.
As P Mangatram Jewellers scaled up its operation one of the objectives was to bring more female artisans in what was once considered male-dominated sector. The company locates distressed woman, trains and deploys them in the workplace community. Today woman account for 25% of artisans employed and they deserve all the celebrations and empowerment. The training program is spearheaded by expert karigars who have had long experience working on various technical aspects of handmade jewellery. The company plans to set up a complete department for woman artisans wherein they will learn how to create and design demand-driven products to be sold in local and international markets.
P Mangatram Jewellers today remains the most preferred studded jewellery manufacturer for top retailers in India and international markets. Every creation is painstakingly designed by our artisans that boast of unmatched quality designs with the minutest attention to every detail. The company is also credited with breathtaking innovation of creating the world's lightest necklace weighing just 3.5 grams.
The gemstone studded jewellery market in India has grown exponentially over the years. The industry has seen a continuous year on year growth despite volatile gold prices. Taking the view of growth potential in the uncut market and plain gold jewellery P Mangatram Jewellers recently launched two new divisions – Meraki and PureGrams. P Mangatram Jewelers primarily exports its precious and semi-precious studded jewellery largely to UAE & USA. The company is growing at 50% annually and aims to achieve a turnover of 1,000 crores in the next two years.